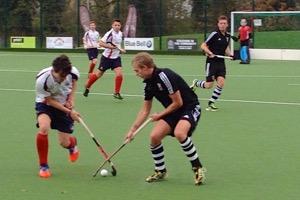 The majority of AEHC's Mens teams had fixtures against their Bowdon counterparts this weekend. Edge's 1st XI took on Bowdon 2s and after some good possession Edge took the lead through McCormick from a short corner. The lead then was doubled by Scott Ashdown who scored from the top of the D. A goal for Warbuton was followed by a solo effort from Si Parr to see Edge go in at half time 4-0 up.
They continued to keep good possession and stopped Bowdon from creating any real opportunities. Warbuton converted another two efforts in the second half to complete his hat-trick. Bowdon did manage to get a goal back at the end to make the final score 7-1 but overall it was a good performance from Edge's men who play Whitley Bay in their first league game next weekend.
The 2s fulfilled the 1st team's Cheshire Cup match against Bebington and, despite dominating possession, they lost to a more clinical performance 4-2. The 3s beat Bowdon 3s 4-2 in an almost exemplary performance against a team two divisions higher, Bowdon not being able to live with Edge's pace upfront and midfield guile.
The 4s also faced Bowden and went down 3-1 with special shout outs going to Rob Marks up front and the two full backs Callum Stewart and Ollie Andrews.
In other AEHC /Bowden showdowns, the clubs' respective 5th XIs went head to head and drew 1-1. Alisdair Smith scored a lovely goal for Edge with a reverse stick finish and Josh Benton played with confidence at full back. Edge's 6's won 2-1 and the 7s drew 3-3, despite finishing the stronger team.
The Ladies 1s weren't in action this weekend but the 2s and 3s enjoyed a frenetic match against each other in Cheshire League division 1. The score ended 2-2, Vicky Alexander opening the scoring for the 3s after ten minutes and Jude Offer equalising for the 2s almost immediately. The 2s had a series of short corners but couldn't make them count before Bethany Woodhead scored with a very sharp finish to put the 3s 2-1 up at half time. In the second half the 2s started stronger and Nicola Hall scored after a scramble in the D. The 3s came back very hard, forcing a penalty corner right on the final whistle but failed to capitalise on it, leaving them frustrated and the 2s somewhat relieved.
The 4s put on a feisty display to win their home fixture against Runcorn 3-0 in division 3, while a somewhat depleted 5th XI were away to Deeside Ramblers in division 4. Edge started strongly with lots of opportunities which really challenged the very strong Deeside goal keeper and Becky West scored just before half time off a well structured short corner. Edge continued fighting after half time and, with about ten minutes to go, were rewarded with a superb goal from Amy Worsley, securing the result at 2-0.
The newly formed 7s played faced a more Crewe Vagrants 4th XI at the Edge. Although Alderley outran the opposition, Crewe's experience proved invaluable and resulted in them winning 3-0. Edge's ladies players are to be congratulated on their tenacity and, with more match experience, have the makings of a very good team.
Report by Sue Polley.
Tags: