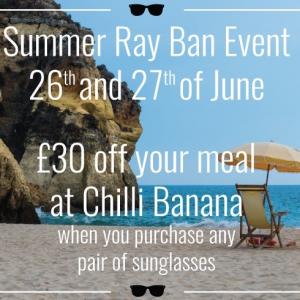 Promotional Feature
At Albert Road, we like to be different. It's pretty evident from the large spectacle sculpture in the front lawn to the niche eyewear we stock.
This summer we would like you to try some Thai food on us! We are buying you a meal at Chilli Banana, which is one of the best restaurants in Wilmslow.
Deepak Oberai, Director of Albert Road Opticians, is hosting a Rayban Sunglasses event on Friday 26th and Saturday 27th June. He said "During this event we will have the full 2015 Rayban collection in store so, with the promise of sunshine around the corner, this is the perfect opportunity to get some cool sunglasses for your holiday.
"Now the tasty part - for any sunglass purchases made on the day we will give you a voucher worth £30 to use at Chilli Banana. So if it's fishcakes or pancakes you like, you get it all included with your sunnies!"
Chilli Banana have a great passion for food, almost as much as we have for eye wear, so this is a match made in heaven. Owners May and Steve Wakefield source their ingredients from Thailand and frequents the Asian continent for new recipes yearly.
Steve Wakefield said "I'm excited to work with local businesses. The promotion is a great way to introduce Thai cuisine to Wilmslow residents who may not have been to us before."
The offer is limited to 25 vouchers. To book an appointment or learn more about the event call Albert Road on 01625 533 087.
For more information about the event visit www.wilmslowopticians.co.uk.