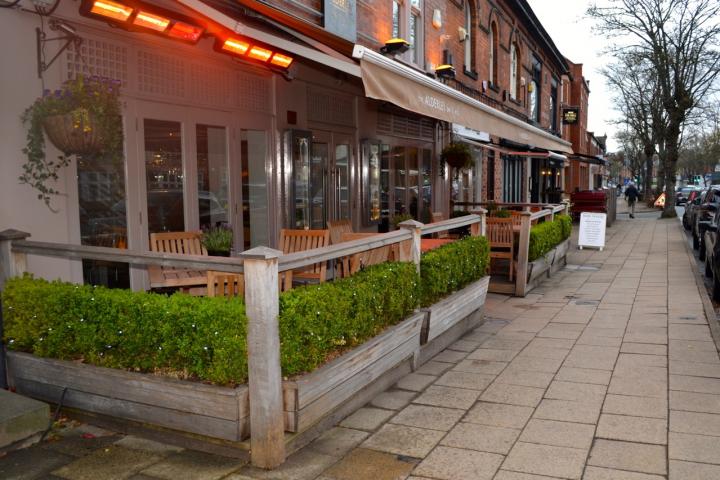 Editor's note: This is the third in a series of articles looking at Alderley Edge's night time economy and the state of the village.
The first article 'This village is going down hill quicker than people realise' was published by myself about a discussion at this month's Parish Council meeting. This was followed by a piece 'Thoughts from the front line' written by Emma Cail, manager of The Bubble Room, offering her opinion as a worker in the village.
What follows is the opinion of Vince Fogharty, a regular reader of alderleyedge.com, resident and frequent visitor to the village's bars and restaurants who has taken the time to put his thoughts in writing regarding the nightlife on London Road.
As we have had the opinions expressed by our local councillors and a local business I wanted to take the opportunity as a customer and resident of the village to offer my own.
A little bit of background on myself. which I believe allows me to give a more qualified view on the retail and services on offer in the village. I am a senior exec for a very large high street brand and I currently run 495 stores across the UK and Ireland and so I see the state of our high streets up and down the country on a daily basis.
My brand is one of the lucky ones in that we are still opening new stores and we spend a lot of time deciding where to open based not just on the usual rent, rates, customer demographic etc. but also what the area is like, what local planning has been approved or declined and also what the local residents have embraced or had issues with in the past.
As a retailer I would welcome any of my stores to be in an area that has such a busy and well visited night life as is the case with Alderley Edge, it means the area has customers who may see my stores when they are closed and revisit during the day and also there is less risk of vandalism and break-ins as the area is busy at night and not left as a ghost town.
There are a few residents in the village that seem hell bent on painting a negative picture and trying their best to create what will never exist i.e. the idyllic quaint 'Miss Marple' village and this will ultimately drive business and customers away. (Great example is the constant refusal to allow Pizza Express in the village as it is unneighbourly, clearly a building that is now as good as derelict, due to over 3 years of being empty, is more neighbourly than a thriving brand that trades all day and will bring new customers into the area) Walk down London Road on an evening and see the buzz that is created and the reason the businesses are so successful, I know many local and town councils that would kill for just a slice of what we have got.
As a resident I love what is on offer both during the day and in the evening. We moved here from Chester City Centre over 3 years ago with one of the main reasons being the wonderful array of bars and restaurants that would be literally on our doorstep (yes we live a stone's throw from London Road) and we are lucky enough to be able to be out in the village at least 5 times a week.
How many of those councillors who are passing comment actually use the local services?How many of them use and support the stores during the day? Most will be seen in Sainburys in Wilmslow or Waitrose, when the village has all you could need. (We haven't bought food from a supermarket since we moved here, buying all we need from Alderley Village Butchers, Granthams, Weinholts and Corks Out.)
The businesses in the village have created an area that is deemed in leisure and retail as 'a destination area' in that customers will travel to use the services on offer, this is due to their hard work, fantastic service and the fact they want to create a high end feel to the village, both during the day and the evening so that customers can enjoy what is on offer.
The minority of residents that moan about parking, fag ends and noise really need to remember that most the business comes from outside, if they keep putting up hurdles and barriers those customers will go and use another area, it's that simple!
It's 2013 and the village needs to move with the times, unfortunately it's a fact of life that people throw fag ends down, litter and park where they want, it's not the business's responsibility to deal with that, although all of them do what they can to deal with issues outside their own property.
Equally it's not the PCSO's responsibility either, it's the Councils responsibility to ensure litter etc is dealt with. (perhaps they could use some of the £30,000 they spend to run the waste of space that is the public loo!), so they need to stop moaning about it, stop trying to pass the buck and debate it correctly, fully and agree on a solution, after all many many other towns and villages across the UK manage it!
One last comment I wish to make, some people who know what I do for a living ask why we don't open up in the village, well we looked at it, but it would just cost too much money.
The majority of local and town councils and even landlords will offer incentives to bring a brand into the area and keep the high street alive, there are landlords that will give you 75% plus off your first year's rent or pay the rates for you. There are councils that offer free parking passes for your staff (not push to charge them as AEPC seem hell-bent on doing) and offer cash incentives towards local regeneration of the retail areas. Unfortunately these are not on offer locally but they are just a few miles up the road!
Finally, myself and my partner are very passionate about our village and helping to keep it alive, thriving and vibrant (when we recently had our civil partnership in the village everything for it was bought here, we had 50 guests stay in the Premier Inn to enjoy the village for the whole weekend, and they are very jealous of what we have on offer on our doorstep) and it saddens us when our locally elected councillors simply make derogatory and negative comments about it, they need to remember that they serve at our pleasure and they serve to solve problems, make decisions and ensure the village moves forward and not try and pass the buck and blame the very people that are keeping this village alive!
Guest post by Vince Fogharty.