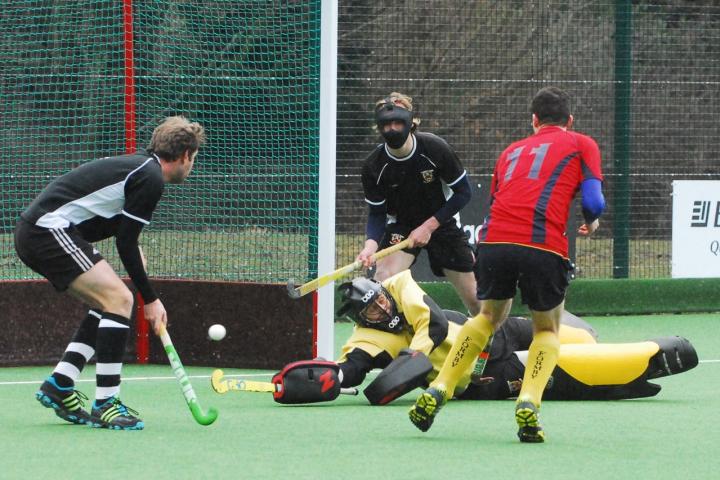 As the season draws to a close some clubs still have games to play but this weekend saw the end of the league programme for Alderley Edge's Men's teams.
In the North Premier League Alderley Edge's first team travelled to relegation threatened City of York, who needed the win to guarantee survival.
Alderley Edge fresh from touring Holland over Easter looked in control early with Sibley and Whitehead thwarting any York attacks and starting attacks. Gregory and Coxon both had half chances and caused the York 'keeper into action to come off his line to block.
As the game progressed the pace of the pitch seemed to be slowing both teams down and no real clear cut opportunities arose for either side.
Hughes and Jackson were tidy in midfield and Bryant ensured possession was maintained. Both teams saw penalty corner chances come and go.
The second half was fairly similar with York keeping men behind the ball and trying to catch Alderley Edge on the counter attack, this worked as a missed tackle allowed York to get to the base line and the ball fell kindly to the forward whose first time slap shot found the bottom corner.
Alderley Edge kept pressing and under pressure York kept turning the ball over, however it was not Alderley Edge's day as Sibley's reverse stick shot flew wide and James Warburton's deflection went the wrong side of the post.
As they game drew on York started create chances of their own with Riley making a couple of notable saves. The game finished 1-0 and Alderley Edge reflected on what has been a very positive second half of the season and look forward to another year in the North League's top flight.
The second team finished off with a convincing win, having already secured second place and promotion to the North league for next season, they travelled to West Derby and came away 5-1 winners. Ben Gregory was star of the show with a goal and a couple of assists, Sam Baker grabbed two goals. Kieren Hall and Julian Scarsbrook, with his first of the season, rounded off the scoring.
The 3s season has already finished and they topped the table by an amazing 22 points following the leagues completion. The Fourth team went down 1-0 to Chester and finish the season in an impressive third place.
Neither the 5s nor the 6s were in action, they have finished in 3rd and 2nd place respectively with the 6s missing out on the title on the away goals rule. The 7s who joined half way through the year did not play and finished in mid table.
With no relegations for the third year running and three promotions and two third place finishes it has been another successful season for the hockey section at Alderley Edge.
Match report by James Riley.
Tags: