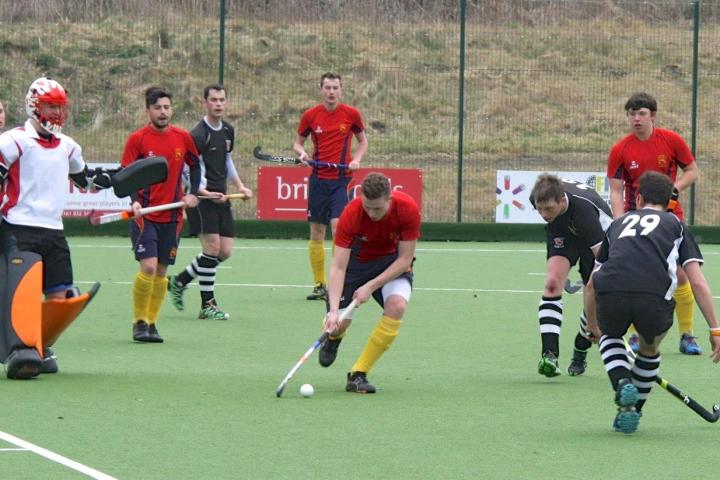 Alderley Edge Men's first team went into their clash with Formby with Premier League survival still in the balance but in their hands.
Formby attacked from the start and put Alderley Edge under pressure from the off, squandered a couple of good opportunities and called James Riley into action in the Alderley Edge goal.
Against the run of play Alderley Edge broke free and Joe Coxon was checked in the D. Tim Pont came forward and rifled the ball into the top corner to give Alderley Edge the lead. It was soon 2-0 as Ben Badger broke forward from left back and fired the ball towards goal, the ball ricocheted between the keeper's feet and Warburton was on hand to score from close range.
Formby kept attacking but with Joe Gregory becoming more influential in the midfield the game evened out with Riley the slightly busier of the two 'keepers. Formby's finishing was off form and Alderley Edge had the bit between their teeth, knowing what was at stake.
They extended their lead when Coxon and Tom Sibley linked up well down the right hand side and, as Sibley crossed, Coxon continued his run to neatly deflect the ball high into the net. Pont then had another penalty corner chance but this time the defender cleared off the line.
The second half was similar but the Alderley Edge backline was more resilient with Kay giving Alderley Edge an attacking outlet and Hughes and Bryant getting a grip of midfield. Williams tackled well and kept momentum going forward.
It was 4-0 when Andrew Drummond finished following excellent work from Gregory. Further chances came and went for both sides but it was Sam Gregory who completed the scoring to give Alderley Edge a 5-0 win, a result that was perhaps a little flattering, but no more than their recent endeavours deserved.
With Bowdon's failure to win, it means Alderley can finish no lower than ninth and no matter what happens in the other fixtures and in the National League they will play in the North Premier League next season. There is one game to go, away at City of York and victory could lift them to fifth.
Meanwhile the men's third team created a piece of history on Saturday, 23rd March, as they recorded their 22nd straight victory - meaning that they have gone through the entire league programme with a 100% record.
Their latest victory was as close as they have been pushed all season, beating Knutsford 2-1.
Alderley Edge took the lead when Rob Marks finished well for his 19th league goal of the campaign. They then looked like they were going to cruise to victory as Marks added his second before half time with an excellent drag flick.
It was an open game with both teams creating chances but it was not until five minutes to go, when Knutsford were awarded a penalty stroke, that further goals were added making it 2-1. Then what could have been an anxious last couple of minutes for Alderley Edge were successfully played out and they achieved the perfect season, scoring 87 and conceding only 10 in the process.
The fourth team secured a top 3 finish beating Denbigh 7-1. The fifth and sixth team, who play in the same division, both had resounding victories, 9-0 vs Knutsford and 6-0 vs Bramhall respectively. The 6s are top having gone the whole season undefeated and the 5s in third just 3 points behind having played a game less. Louis Godfrey is worthy of a special mention, having notched his 50th league goal this weekend.
The seconds and sevenths were without a game due to the weather.
Match report by James Riley.
Photo: Alderley men's third team.
Tags: