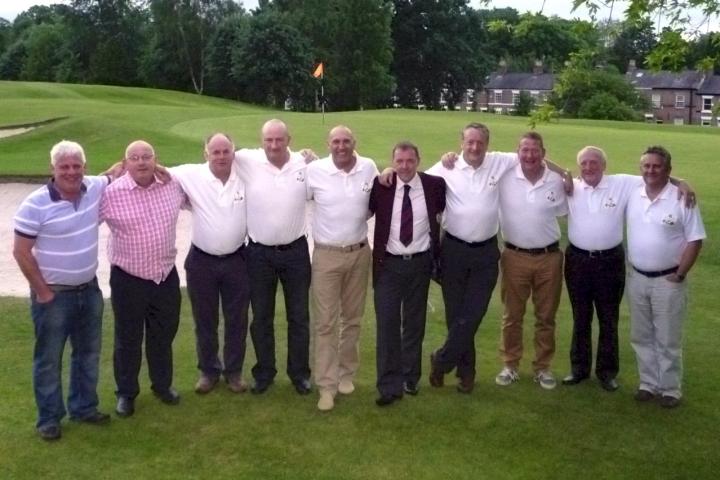 Rick Ford, Alderley resident and 2012 Captain at Alderley Edge Golf Club, has been raising funds this year for his chosen charity, the East Cheshire Hospice.
On 29th June Rick and seven members from Alderley Edge, plus club President Brian Foden and Vice President Keith Cooney who acted as drivers, set out to play three full rounds of golf in three countries, all in one day!
They started at Lockerbie Golf Club at 4.30am, waiting for the sun to come up, although it was actually raining! Having completed 18 holes there, they set off south by minibus and arrived at Mold Golf Club, North Wales at around 11am. After 18 holes there, they travelled back to Alderley Edge where members greeted them before they started the final leg of this one-day marathon. The golf was concluded at around 8pm, and the weary players tucked into a well-deserved BBQ.
Commenting on the golf marathon, Rick Ford said "We had a tremendous but tiring day. I'd just like to thank all those people who made the 3 Countries Golf Challenge possible, from the Lady Captain at Lockerbie, the Secretary at Mold and our home club of Alderley Edge and of course all the lads involved in this tremendous achievement in supporting my Captain's Charity, The East Cheshire Hospice.
"To date we have raised over £6,500 and we still have until December to raise further funds for this very worthy cause."
You can visit Rick's JustGiving page at http://www.justgiving.com/Rick-Ford
Photo: ( l-r) Paul Broome, Brian Foden, Charlie Hill, Simon Barber, Neil Johnson, Rick Ford, Robert Booth, Paul Penney, Keith Cooney and Bob Plumb.
This is a member post by Jerry Dixon.
Tags: