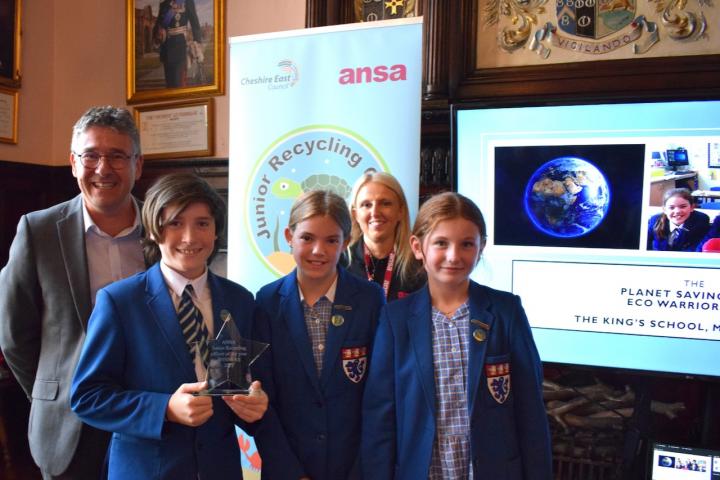 Pupils from four of Cheshire East primary schools have been crowned top recycling finalists thanks to their efforts to reduce, reuse and recycle waste.
Over the past year, just under 4,000 pupils across the borough's schools have been taking part in the junior recycling officer scheme – which is managed by the council's wholly-owned environmental services company, Ansa.
An awards event was held last week for the finalists, which were Lindow Community Primary School in Wilmslow, King's School Macclesfield, Acton Primary and Leighton Academy. King's School was named as providing the overall junior recycling officers of the year.
The pupils attending the event gave presentations on their recycling activities at their schools. Some great examples that they demonstrated included; creating school composting areas, collecting crisp packets – a crisp blanket scheme, introduction of felt tip and pen recycling points, making improvements in their school recycling systems, and break time litter picking groups. Schools also created fashion from recycling, calling it 'trashion' and holding a trashion show!
All the junior recycling officers had also delivered recycling-themed assemblies to their schools and organised competitions and the collection of batteries, clothes and shoes for recycling.
Councillor Mick Warren, chair of Cheshire East Council's environment and communities committee, said: "The council is committed to protecting and improving the environment and our junior recycling officers are doing a fantastic job in helping us to achieve this.
"Engaging with young people at an early stage on the importance of recycling and the benefits it brings, is increasingly important. By educating them, they can pass on this knowledge to their peers, family and wider communities.
"It was very clear that these young people truly understand that their work is important in efforts to protect the environment. This is especially encouraging as the council has recently called for local action to help tackle 'the emergency of climate change'."
Laura Demircan, a community engagement officer for Ansa, said: "It was incredible to see the range of ideas and examples of the finalists work, the pupils will have a real impact on how they share information and learn to protect the environment and limit plastics and litter making their way to rivers and the ocean.'
"It's inspiring seeing how much excitement and enthusiasm for the environment pupils I've visited have shown since the competition launched three years ago. All the pupils have been incredibly innovative in finding ways to recycle, reuse and reduce waste. I was also touched that one school in the finalist event attended even though the term had ended!"
The presentations were judged by Ansa managing director Kevin Melling, Ansa senior team leader Steven Williams and communications manager Amanda Wagg.
The finalist awards event was held at Reaseheath College, in Nantwich, with all finalists receiving a junior recycling officer pin badge and a recycled stationery goodie bag with the winners also receiving a trophy.
The junior recycling scheme – which is free to join and open to all Cheshire East primary schools – has been running for over 20 years.
Participating schools receive free talks on recycling and reducing waste and officers are provided with the resources to learn and educate their peers.