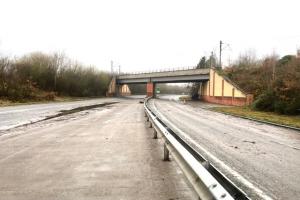 The northbound carriageway of the A34 Wilmslow bypass has reopened between Prestbury Road and Alderley Road following the installation of temporary pumps.
Pendleton Way had been shut for over two weeks since Storm Barra brought severe winds and heavy rain on Wednesday 8th December. As a result the pumping station that services the northbound carriageway failed and was damaged beyond repair.
A spokesperson for Cheshire East Council said: "The A34 Pendleton Way has now fully reopened following the successful implementation of temporary water-pumping measures to run during the Christmas period.
"Over the next few weeks, brief closure of the north-bound lane will be needed on an ad-hoc basis, however, to allow safe access to refuelling of the on-site pump. Any disruption will be kept to a minimum.
"A review will take place in the new year, to seek a permanent solution to the severely-damaged pumping station. We would like to thank road users for their patience and understanding during this challenging period."