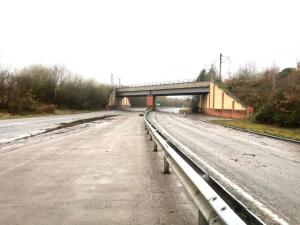 Update: 23rd December
As many local residents will have noticed the northbound section of the A34 Wilmslow bypass named Pendleton remains closed today and has not been opened as we were informed.
I am currently awaiting another update from Cheshire East Council.
The northbound carriageway of the A34 Wilmslow bypass will reopen between Prestbury Road and Alderley Road later this week.
Pendleton Way has been shut for nearly two weeks since Storm Barra brought severe winds and heavy rain on Wednesday 8th December.
Councillor Craig Browne, Deputy Leader of the Council and Chair of the Highways and Transport Committee has confirmed to alderleyedge.com that this section of the northbound carriageway will reopen on the evening of Wednesday, 22nd December.
He said "The delay has been due to the need to install concrete barrier protection, as a result of which both northbound lanes will be narrowed and have a reduced speed restriction whilst the temporary pumps are in place. Contractors will be installing the barrier protection over the course of the next two days.
"The long term solution is likely to be both complex and costly, involving the replacement of the existing pumping station. The pumps failed as a
result of a fallen tree obstructing Whitehall Brook and causing the pumping chambers themselves to become flooded, which in turn caused the equipment to
short circuit. In every other respect, the pumps were serviced and in working order."
He added "I thank everyone for their continued patience and would like to take this opportunity to wish everyone a peaceful and restful Christmas period."
Tags: