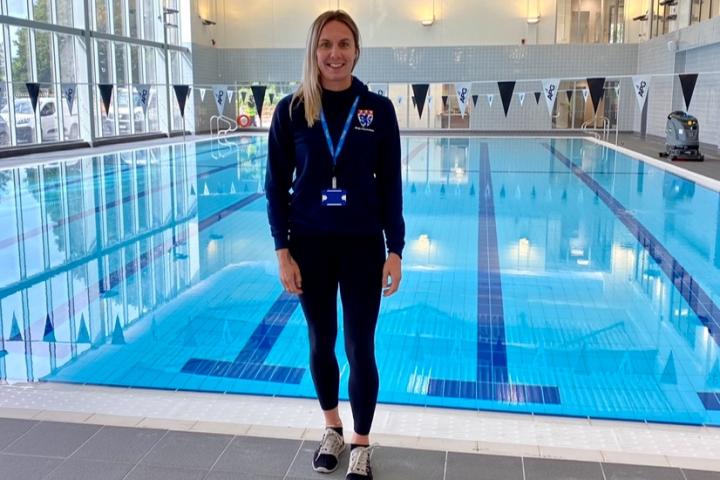 Promotional Feature
The King's School's lead Swimming Teacher Lauren Jocelyn has been selected as one of the senior coaches for the GB Paralympic Team.
Formerly ranked in the top five breaststroke specialists in the able-bodied GB senior team, Lauren gave up her competitive career aged 19 and has been a top coach in her native Scotland and also England, New Zealand and Australia for the last 15 years.
Now 36 and living in Bollington with her Kiwi husband and son, Lauren describes the opportunity to work with Paralympic Team as "the best feeling anyone could have and a genuine privilege."
"It's fantastic to be part of each individual athlete's journey, to help them reach their goals and to enable them to develop as people as well as athletes." Lauren added: "Working as a Paralympic coach you need to be able to develop individual highly bespoke programmes which meet each athletes' different physical, visual and intellectual impairments. "
"It is obviously different to working with the able bodied but with the same competitive spirit and desire to win."
The Paralympics has 14 classes: Classes 1 to 10 are for physical impairment with level 1 the most severe. Classes 11 to 13 cover visual impairment with class 14 for intellectual impairment.
Jocelyn said: "You have to be creative in developing training programmes that suit each category, especially for the visually impaired who won't be able to see your instructions. It's an immensely rewarding challenge."
King's appointed a new Lead Swimming Teacher this year to coincide with the opening of the new 25 metre pool and though COVID has curtailed a competitive swimming programme this year, every child from Reception through to Sixth Form has had swimming lessons and begun to use this magnificent new facility.
Jocelyn said: "My aim is to build an extremely strong squad and put this pool and King's on the swimming map."
"The secret," she says for anyone wanting to develop their swimming is "quite simply repetition. You need to get in the water and work on your technique and strength.
"Most importantly focus on what you are doing and improving your stroke. You have to think about what you're doing rather than daydream."
She added: "I want to help all the swimmers I work with to develop as people as well as swimmers."
Lauren will fly out to Tokyo on August 11, returning with the rest of the team of September 6.
Tags: