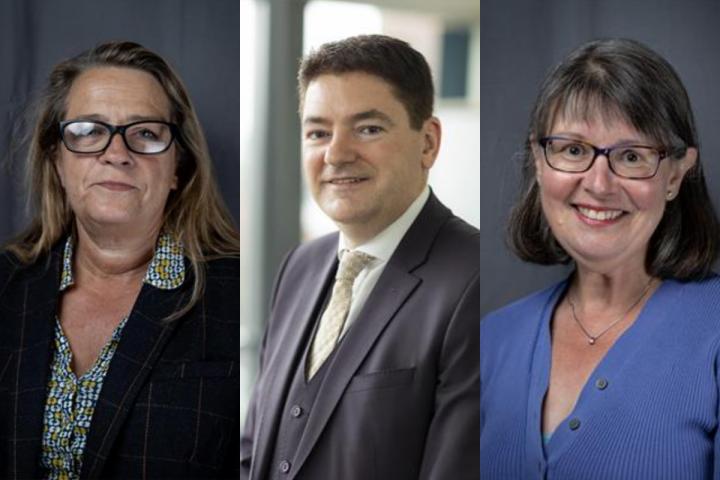 As reported earlier this week, the development of a garden village at Handforth has moved a step closer as the Cabinet gave the green light for its officers to seek to resolve any outstanding legal rights issues, so the scheme can proceed.
However, independent Cabinet members Toni Fox, Cllr Amanda Stott and Deputy Leader Cllr Craig Browne did not support the proposal and abstained - choosing not to vote rather than vote against.
Speaking at the Cabinet meeting on Tuesday, 7th July, Cllr Craig Brown said "It's fair to say that this item presents us with some difficulties and I say this recognising that the Handforth Growth Village was conceived under the previous administration and that the site was allocated as part of the local plan.
"Independents within the administration recognised that local residents remain sceptical. Of course I do appreciate the housing developments will need to come forward in order to underpin our economic growth as a borough. We have the world-leading bioscience hub at Alderley Park and we recognise that it's important provide high quality living accommodation for the people who will work there both now and in the future and I want them both to be able to live and work in Cheshire East.
"Residents do question however whether the Handforth East site is a sufficiently sustainable location. The site is bounded by dual carriageways on two sides and the only means of access is by private car. If the site is developed the opportunity to provide multimodal connectivity between this site, the neighbouring village of Handforth and the nearby town Wilmslow must not be missed.
"Like our residents I am open to persuasion but in order to be convinced I need to say, and I suspect they also need to see, clear plans being put in place to support active travel and public transport connectivity. These plans need to go beyond what has been presented so far and what has been shared with residents to date. They need to demonstrate unequivocally our commitment to multimodal travel.
"There will be an opportunity as part of a planning application to demonstrate that the site will be accessible by means other than the private car, including cycling and walking routes into Handforth as well as transport, that's public transport and bus services, to connect up with Wilmslow Railway Station and of course the bioscience hub at Alderley Park.
"The A34 provides sufficient land and opportunity to provide dedicated cycle and rapid transit bus routes and as I say like most residents I am open to persuasion but at this stage it is just too early to lend this scheme my support. I recognise that this is just an enabling paper before us today but I wish to keep an open mind."
Cllr Amanda Stott added "I'm afraid I'm unable to support this item today given the uncertainty surrounding Covid and the lack of clarity for employment and businesses and how future businesses will work I think we should take this opportunity to pause this scheme not just carry on where we left off but actually pause it before we commit to any further funding into this project."
Cllr Toni Fox said "I'm with my colleagues on this. Essentially in light of the potentially wide-ranging impacts of Covid and the announcement made last week by the government on the radical changes that are going to be made to the planning system I would like to suggest to my Cabinet colleagues that it would be appropriate for us to undertake an internal review to fully consider what these might actually be and consider whether we need to look at making any revisions."
Other issues raised included the consideration of any objections which may be received should be delegated to officers for them to make a recommendation as to whether or not appropriation of any part of the Open Space Land should proceed.
Cllr Barry Burkhill said "Well my only comments at this stage is that it's not clear in the recommendations in section 2 whether after the director of growth and enterprises considered all the objections and completed the recommendations 2-11-215 whether he will then bring the proposed appropriation back to cabinet for confirmation or not. There may then be reasons why this appropriation should not go ahead and the final decision should be made by cabinet and not delegated to officers.
"There's also the wider consideration of why we should be paying out perhaps possible compensation of unknown amounts when economic or other circumstances may delay or prevent the development of this LPS 33 even if it receives planning permission."
Cllr Paul Findlay added "A concern relates to the open space land. Now I appreciate this is securing and appropriating third party rights over council owned land when sometimes that land is designated as open space land but I noticed in the recommendations that it's the director who is judge and jury so to speak on the matter in 2.21 and 2 if there are objections. So why only the director, why shouldn't members be involved there might be some important issues which come to light in respect of prospective objections in relation to open space land and wouldn't it benefit of some independent member review element."
Cllr Sam Corcoran - Leader of the Council said "I am aware of the failings of the local plan but I accept that it is an approved plan. Now in terms of this particular application I do support the principles of a garden village and I would like to see excellent infrastructure for cycling and walking to promote sustainable trouble.
"I do hear what some Cabinet members have said with concerns around that. I'm very confident that those concerns will be addressed before any application comes before the Strategic Planning Board. I would say also that this council has been very clear in its commitment to a carbon action plan, to become a carbon neutral council by 2025 and passing its environment strategy. So I do support the proposals that have been put forward today."
Cllr Nick Mannion summed up the debate by saying "Just picking up term a couple of the points of concern. The recommendation relating to the delegation to officers to deal with any any post resolution amendment to, that is entirely in accordance with the council's current way of dealing with large physical infrastructure matters.
"The issue of a a review, again what I would stress is this none of this will happen actually happen on the ground if planning permission is not granted and again what the whole concept of the Garden Village is it's an exemplar for sustainable living which will have the highest environmental and ecological standards and it would be perverse if that was not to be paralleled with tactive travel and interconnectivity with regard to public transport.
"These are all issues I'm sure will if, they're not if they're not presented with assurances at the Strategic Planning Board they are allows some serious questions to ask on the day. We're also regarding the cost of the Garden village we're because it's in the program there is significant external government funding available to us if it secures planning permission and again as a condition of that funding it has to improve its environmental and economic sustainability so I would again urge the cabinet to approve the recommendations."
He added "I appreciate the concerns of some of our Cabinet members and I think that's a strength of our Cabinet that members feel able to express them in public but again the the key challenge for this whole project is the planning process this is merely a preliminary building block with regard to the land assembly."
Cllr Sam Corcoran said "Just before we move to the vote could I ask you to come back on one comment that was made about whether negotiations with landowners have started even that we are proposing compulsory purchase orders. Perhaps you'd like to just deal with that issue."
Cllr Nick Mannion replied "Yes I can confirm that all the relevant land owners are fully aware of the proposal and we are at varying stages of negotiation with them. Again, however, I cannot I cannot give any further detail as to whether those negotiations will be concluded on a consensual basis or the powers asked for in this report will have to be exercised but all local landowners affected are aware and there's been initial negotiations and discussions with them."
Following a vote, during which the members voted as follows, the item was carried.
Cllr Craig Browne - Deputy Leader - not voting
Cllr Sam Corcoran - Leader of the Council - for
Cllr Laura Crane - Portfolio Holder for Highways and Wastecouncillor - for
Cllr Kathryn Flavell - responsible for Children and Families - for
Cllr Toni Fox - responsible for Planning - not voting
Cllr. Laura Jeuda - responsible for Adult Social Care and Health - for
Cllr. Nick Mannion - responsible for Environment and Regeneration - for
Cllr Jill Rhodes - responsible for Public Health and Corporate Services - for
Cllr Amanda Stott - responsible for Finance, IT and Communications - not voting
Tags: