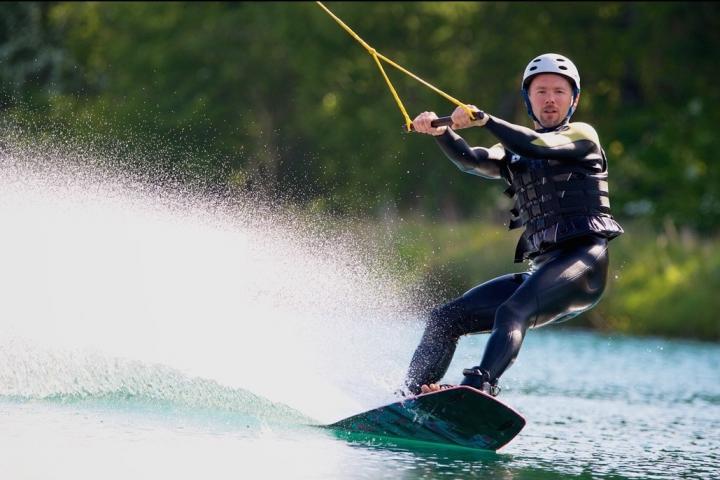 Controversial plans to create a watersports and outdoor activity centre at a former quarry in Chelford were considered by the Strategic Planning Board again this week.
Cheshire Lakes' plans for a watersports and outdoor activity centre at the former Mere Farm sand quarry have endured an unprecedented path through the planning process.
Having been considered on four previous occasions by the Strategic Planning Board, the application was first refused, then approved, then refused again. Subsequently a revised application, which included some ecological enhancements and more mitigation to seek to overcome the perceived negative impact, was recommended for approval by the planning officer in May 2017. However, committee members voted to refuse the application by 6 votes to 5. An appeal against this refusal was dismissed in October 2017.
The current proposal was reduced in relation to what was previously proposed, with the watertsports activities now restricted to only a portion of North Lake. The proposal also includes two new islands, which would be constructed on the south lake, as part of the ecology measures.
The plans were approved by members of the Strategic Planning Board by 5 votes to 4 today (Wednesday, 26th February).
Coucillor David Jefferay said "It was difficult because the planning inspector who ruled on the appeal of the previous application refused it on the basis of harm to the openness of the greenbelt but stated that the effect on ecology was not substantial enough to warrant refusal. This time, the development was scaled down and some members took the view that the harm to the green belt was now outweighed by the benefits of the facility."
He added "In my eyes the revised plans were not significantly smaller than the original and i was of the opinion that the impact was still too much so I voted against. I was also swayed by the fact that there are some really quite rare birds on the site which give it "county status" and I didn't want to risk disturbing them even though that is a reason that perhaps would not stand up at appeal."
Additional facilities at the waterpark will be provided in a series of container type structures including a reception and office, kit stores, changing facilities and toilets. On the lake, there would be two buoy lines and an area for a seasonal inflatable course. The remainder of the lake would be available for swimming, with the exception of an exclusion zone around the existing island.
The scheme also includes a new access onto Alderley Road. Parking would be provided for 54 cars, including four accessible parking spaces, and there would also be space for coach parking. The parking and ancillary features would be located on an area of grassland between the north lake and Alderley Road.