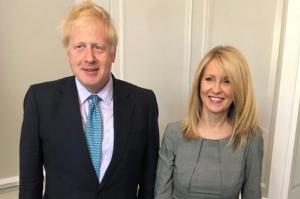 Our local MP Esther McVey, who has backed the former London mayor in the Conservative party leadership race, was quick to congratulate Boris Johnson who will shortly become Britain's next prime minister, having beating rival candidate Jeremy Hunt.
Tatton MP Esther McVey said: "This is wonderful news and I congratulate Boris. It was a much needed decisive victory that will enable our new Prime Minister to unite the country, deliver Brexit and shape a path to prosperity which every person can be part of. Let us all come together, proud of who we are and what we have to offer and know our greatest days lie ahead.
"I backed Boris in the campaign as I believe he will deliver on issues that are important to my constituents and the North. I have had many conversations with Boris in recent weeks about issues including infrastructure, policing and education and I have been clear he needs to act and deliver what matters to people.
"It is vital the North gets the attention it deserves so we can continue to grow our local economy and create more jobs and opportunities for everyone. He is passionate, as I am about infrastructure and local services and that money is not wasted on projects like HS2 and I will keep pushing for action to ensure the concerns of the Tatton constituency are heard as he takes up office."
Tags: