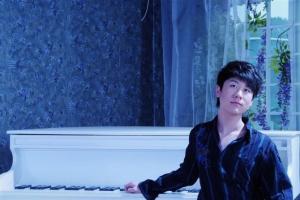 The 15th season of Lunchtime Concerts at Alderley Edge Methodist Church draws to a close on Wednesday 19th June, when Zijun Xu from the Royal Northern College of Music gives a piano recital.
Born in 1994, Zijun Xu is a Chinese pianist who started his piano journey at 7 years of age. In 2007, Zijun entered the Middle School attached to the ShenYang Conservatory under the guidance of pianist Danwen Wei. In 2009, he was a finalist of The ShenYang Conservatory Piano Competition. In 2010, Zijun held his solo recital debut at the ShenYang Conservatory Concert Hall.
In the same year, he was awarded the Most Promising Young Pianist of the year and was given the prestigious opportunity to represent his School at the Steinway Artist Festival. Zijun was recommended to take part in the Beijing International Music Festival and Academy, where he was grateful to receive masterclasses from Jerome Lowenthal, Gabriel Kwok, Pavlina Dokovska and Jeffrey Cohen. He was a highly recommended pupil and was invited to perform at the final gala concert. Zijun graduated from Middle School with overall categorization of first class.
In 2013, Zijun won an entrance scholarship at the Royal Northern College of Music (RNCM) and began his undergraduate studies under the tutelage of Colin Stone. He also achieved 'RNCM studies supported by the Ann Gerrard Bursary.' In his first year he was a finalist in the RNCM Chopin Prize competition, as well as winning the Mark Ray Prize, where adjudicator Carole Presland commented on his highly sensitive tone production and powerful finger technique. Zijun made his London debut in St. Mary's Church in Harrow-on-the-Hill to great audience approval and participated in the Hu Kun and Friends International Masterclass as a teaching assistant to Colin Stone. He was offered recital opportunities at the festival to great critical claim.
In his third year undergraduate studies, he is thrilled to have worked alongside Stephen Hough, Michael Lewin, Michel Beroff and Benjamin Frith. His particular interest in chamber music has also provided him with opportunities to perform with his piano trio in RNCM Chamber Music Festival.
Zijun will be performing: Chopin: Piano Sonata No. 2 in B-flat minor, Op 35, Janacek: Piano Sonata 1.X.1905 and Rachmaninoff: Etudes-Tableaux, Op 39.
Admission is by programme, £5.00, available at the door.
Light lunches will be served from 12 noon and the concert starts at 1pm, lasting approximately 45 minutes.
The designated charity for this month is the Christie Cancer Care Centre, Macclesfield.