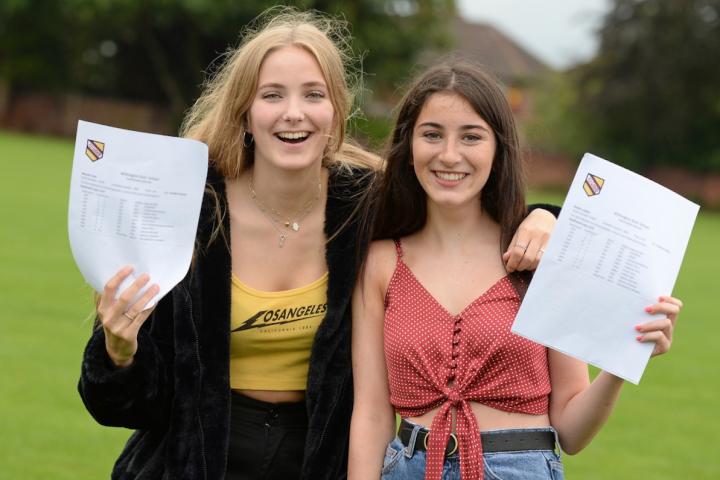 Promotional Feature
Pupils from Wilmslow and Alderley Edge have made an outstanding contribution to Withington Girls' School's raft of stellar GCSE results this year. Two students from the local area - Freya Metcalf and Sophie Reuben – excelled in their recent examinations, each achieving eight Grade 9s – the highest mark possible under the new numerical marking system – plus a Grade 8 (equal to an A*) and both also achieved an A** each in Further Mathematics.
Overall, the reformed GCSEs have seen Year 11s at Withington Girls' School achieve 43% of results at the elite Grade 9 and 11 pupils attain an exceptional clean sweep of at least eight Grade 9s; eight also with the very top A* Distinction in Further Mathematics. Three pupils achieved 10 Grade 9s plus A* Distinctions in Further Maths.
Sixteen pupils, or one-in-five of the cohort, achieved Grade 8s and 9s in all their subjects, many with an additional A grade or higher in Further Mathematics. In the numerically-graded examinations, some 46 (58%) of the Year 11 pupils at Withington earned Grades 7 or above in all their subjects, equating to A* to A in the pre-reformed grading system.
Withington's Headmistress, Mrs Sarah Haslam, said: "These pioneers of the new GCSEs have done us proud and we are delighted for them all. Our pupils have achieved these wonderful results, whilst also demonstrating a genuine passion for learning and pursuing a wide range of interests beyond the classroom".
The GCSE results follow the record-breaking 41% of A-Levels achieved at the top A* grade last week and 15 Withington students set to start their studies at Cambridge and Oxford universities in the Autumn.
'The vast majority of this year group have chosen to continue their Withington journey in our Sixth Form and, joined by a number of new starters, we look forward to supporting them all as they move on to their chosen A-Level subjects and prepare their university applications. They and their families have already made a tremendous contribution to the Withington community, and we know they will continue to do so. Warm congratulations to them, to their teachers and to their families.'
Open Days for entry to Withington Girls' School will be held on Thursday 8th November and Saturday 10th November – see www.wgs.org for more details on 2019 Admissions.
Photo: Pictured celebrating after collecting their GCSE results are (from left to right) local girls Freya Metcalf and Sophie Reuben.
Tags: