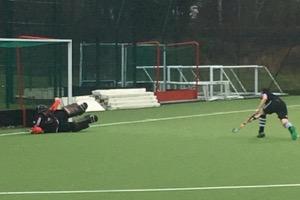 Several of AEHC's mens and womens team are well placed to challenge for promotion at the end of the season, featuring in the business ends of their respective leagues after the Christmas break.
The Ladies 1s started the second half of their season with a bang, beating Harrogate Ladies 1s 9-0 at home in North division 1. Harrogate had held Edge to a 3-3 draw earlier in the season but were no match for Edge on Saturday. The home team started like a train and were two goals up within the first five minutes. This set the tone, and momentum, for the game and sees Edge currently third in the league with a game in hand over second placed Leeds Adel.
The Ladies 2s retain their place at the top of Cheshire division 1 after beating their club mates, AEHC Ladies 3s 1-0 at Wilmslow High School. The match was a fast-paced and very competitive affair, the sole goal coming courtesy of Caitlin Polley after 20 minutes. Both team kept attacking until the final whistle, some stellar defending by Katie Hazeldine thwarting the 2s attempts to widen the goal difference.
The 4s game against Oxton fell foul to the elements but the 5s convincing 7-1 win, which included a hat-trick from Katy Smith, over Lymm 5s now sees them top division 4 on goal difference.
The Mens 1s and 3s games against Timperley were both called off due to snow on Timperley's pitch. The 1st actually started their league campaign the previous weekend and secured a 2-1 win over Chester Mens 1s with two goals from James Warburton. They currently sit third in the North Premier League, one place ahead of Timperley and with a game in hand over second placed Fornby. The 3s also start the second half of their season in third place in their league, North West division 3, and also have a game in hand over the top two – Deeside Ramblers 3s and Timperley 2s. All to play for!
The Mens 2s are not faring quite as well in North division 1 and lost 1-2 at home on Saturday to University of Liverpool Mens 1s. The 4s and 5s faced off against each other in North West division 4, the 5s creating a minor upset by winning 1-0.
The 6s earned themselves a hard-fought 3-2 win over Winnington Park 3s, Sam Jones, John Hadfield and Paul Buckingham finding the back of the net to earn Edge a valuable three points in North West division 7.
The club also fielded a couple of Badgers (U14) teams on Saturday. One team won 5-1 away at Bolton while the other team took on Sandbach U15s who had beaten them before Christmas. Edge were out for revenge and overwhelmed Sandbach with a plethora of goals including hat-tricks for Max Howarth and Thomas Robinson. A mixed Beavers team (U12) took on Northop Hall and came away 3-1 winners with goals from Lily Turnbull, Reuben Frodsham and Noah Jupe.
Match report by Sue Polley.
Tags: