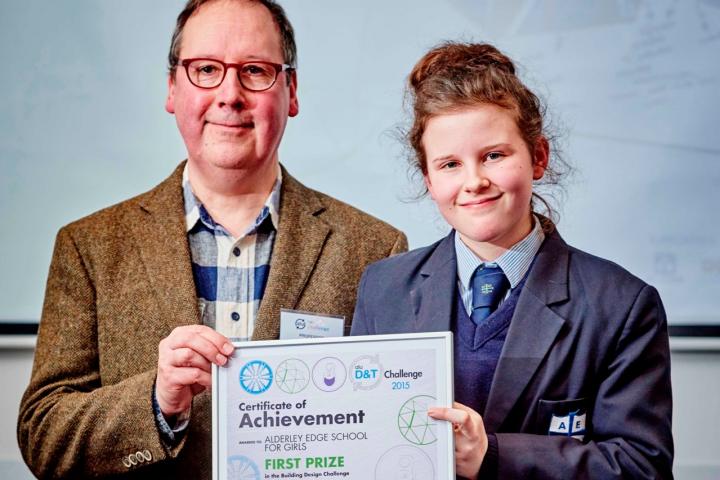 A student from Alderley Edge School for Girls was among the winners in a national competition to find the designers of the future.
Ella Coulter, a Year 8 pupil from the school travelled to Birmingham last week to receive her prize in the Alu D&T Challenge, a competition for 11-14 year olds.
In the 'Garden Building' category Ella's design for a studio for a photographer was named the best individual design. The talented young designer won a 3D printer for the school's Design & Technology Department, plus a 3D pen and vouchers for herself and the school. Ella and Head of Design & Technology, Kat Boyland received the prizes at an award ceremony held last week at Thinktank, Birmingham Science Museum.
The national schools competition, linked to the Design and Technology curriculum at Key Stage 3, helps teach pupils about the material properties and sustainability potential of aluminium by challenging them to design a sustainable product for the future using aluminium.
This year's competition set individual and team challenges based on real-life briefs faced by designers, engineers and manufacturers in three categories - transport, building and packaging. Judging took place in two stages, reducing over 280 entries to a final shortlist of 32; with the final winners chosen by senior figures from the aluminium industry, automotive engineering and architecture.
Speaking about the winning submissions at the prize-giving ceremony Alu D&T Challenge judge and sponsor Nigel Gibbon of Hydro Aluminium Rolled Products said: "All of the judges were impressed by the amount of work the schools had put into the competition. Between them the winners demonstrated some really progressive ideas about designing sustainable products using aluminium, and I hope we have inspired some future engineers, designers and materials scientists who will make a difference to industry in the future. I always enjoy meeting the winners, and find the day spent with such bright enthusiastic pupils to be inspirational and a wonderful reminder of the great talent we have in our children."
Mrs Goff, Headmistress at Alderley Edge School for Girls commented, "We are incredibly proud of Ella and her success in this national competition. It's fantastic when our pupils are recognised by external sources for their talents and hard work."
The Alu D&T Challenge is run by the Aluminium Packaging Recycling Organisation (Alupro) on behalf of the UK aluminium industry.
Photo: Ella receiving her prize from Professor Michael Stacey.