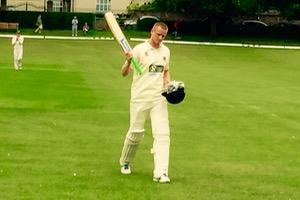 Alderley Edge's prolific Cheshire opening batsman Calum Rowe scored his third and best century of the season against top-of-the-table Toft on Saturday, making an outstanding 147 not out and batting through the entire innings.
With good support from captain Adam Worrall (54), this allowed Alderley to reach an impressive total of 270-5 from 55 overs. Unfortunately the rains came at about 6 o'clock and prevented what might have been an exciting climax, although it has to be said that at 154-1 with 21 overs remaining, Toft were favourites to win. Nevertheless this did not prevent Alderley from moving into 2nd place in the league table.
The 2nd XI did well to hold out for a draw in their game at Toft, but their moment of glory came on Thursday night when they pulled off a near-impossible victory against Didsbury in the quarter final of the T20 Cup. An excellent bowling and fielding display by a much-depleted team restricted Didsbury to 127 from 20 overs, but this total seemed beyond Alderley who only managed 30 off the first 10 overs and then needed 56 from the last 4. However, tremendous hitting by captain Jon Usher (55) brought the requirement down to 13 from the last over. James Bateman hit the first ball for six but then three singles and a wicket occurred from the next 4 balls, leaving new batsman Angus Muir to hit the last ball for 4 in the gloom of 9.20 pm.
The 3rd XI maintained their pace at the top of the league with a 7-wicket win against a spirited Knutsford side. A superb spell of 6-28 from Will Chalk helped keep Knutsford down to 134 all out, and at 36-3 Alderley looked in some trouble, but a terrific unbeaten century partnership between James Cheetham (56) and Ben Davis (49) brought about a victory with 7 overs to spare.
Match report by Rick Davis.