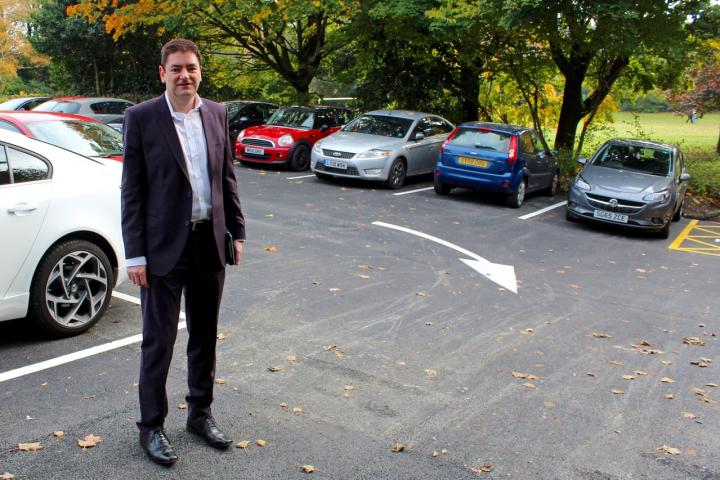 Councillor Craig Browne reported on what has been 'an interesting year' at the annual Parish Meeting on Monday, 8th May, where 27 residents, including representatives from community groups, joined parish councillors.
In addition to sitting on several council committees and attending lots of meetings at Macclesfield and Sandbach, Craig Browne has reported 41 potholes and 77 defective streetlights in Alderley Edge.
He has also reported every street in the village for street sweeping and gully clearing and the next one will take place on South Street later this month.
In the past 12 months there have been a number of highways improvement projects funded through the Local Highways Partnership Project including a complete resurfacing of Ryleys Lane car park and Talbot Road as well as patching works on Brook Lane, Hough Lane, Annis Road and Downesway.
Additionally 15 new parking spaces have been created on South Street, West Street, Stevens Street and London Road.
Councillor Craig Browne said "Looking forward to the next 12 months the footpaths on Oakfield Road, Moss Road and Beech Close are all going to be resurfaced and upgraded. In fact work on this is imminent and should begin later this week.
"Working with Cheshire East officers I am also waiting for confirmation that a number of other projects have been added to this year's capital programme, these include a complete resurfacing of Heyes Lane from Moss Road through to the lay-by on Hough Lane, complete resurfacing of Wilmslow Road from Horseshoe Lane over the railway bridge to the junction with Heyes Lane and a new footpath to be installed on the opposite side of the railway bridge between Piccolinos and Heyes Lane, partly to improve pedestrian access to the village but also as a traffic calming measure."
An assessment has also been carried out into the viability of adding a pedestrian crossing on Ryleys Lane to assist children on their way to school and Councillor Browne is now working with officers to explore whether some of the section 106 fund could be used to enable that project to go ahead, which would cost in the region of £60,000.
An assessment has also been carried out into the feasibility of a one-way system of part of Chorley Hall Lane which would enable the footpath over the railway bridge to be widened and an additional 18 long stay parking bays to be created. As a result South Street car park could be reduced to a minimum waiting time of three hours to increase the turnover of spaces. This will be subject to a public consultation shortly.
A consultation will also be shortly launched into the introduction of a one-way system on George Street, South Street and West Street.
Councillor Craig Browne said "The idea behind this is to try and improve safety at the junction of South Street and West Street which is currently a blind turn but would also enable the creation of a further 7 short stay parking spaces on George Street. This would bring the number of new parking spaces created since 2015 to 40, which when you think about it is the equivalent of another Ryleys Lane car park."
Craig Browne has also continued to push Cheshire East Council for another car park for the village. They have confirmed that "extending the Ryleys Lane car park is the only really viable option." but there is no money in the budget to pay for this in the 2017/18 financial year.
He added "At the same time we have been working with the Allotment Society to try and progress the idea of a 40 to 50 space car park at Heyes Lane. However there are outstanding issues relating to the removal of the land covenant which we have discovered is linked to the neighbouring property and also the need to identify a plot of allotment land which could compensate for the space which would be taken away."
Tags: