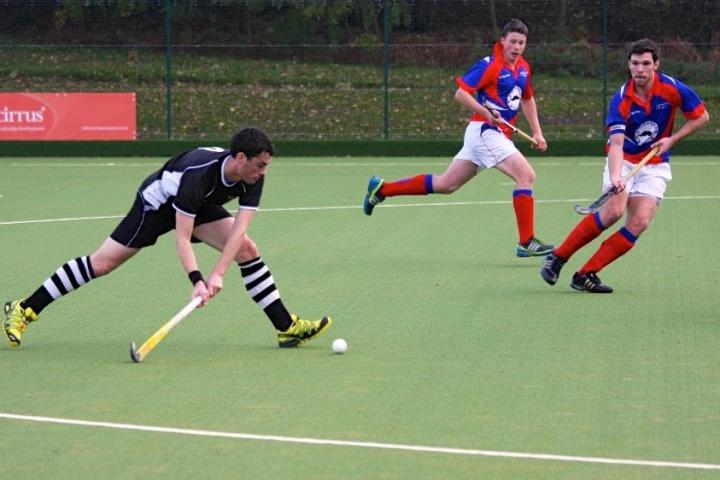 Alderley Edge continued their recent run of good results in the North Premier division against Durham University.
From the start both teams showed real attacking intent with crisp passing and committing men forward, Ben Gregory going close for Alderley.
Durham set a high line giving them plenty of possession and the advantage in terms of territory. However, they were open to quick counter attacks and it was from such a break where Sam Gregory linked with brother Ben. His pass cut out the 'keeper and found James Warburton, his flicked finish from a wide angle was too much for the covering defender and gave Alderley the lead.
Durham tried to get back into the game but solid defending from Badger and Kay and the covering Cook gave them little opportunity other than a penalty corner that was saved. Alderley had a couple of corners of their own but Durham defended them well and there was no further score in the first half.
Durham tried to exert early pressure in the second half but Alderley were coping well, until Jackson mistimed a challenge and conceded a penalty corner and was sent to the sin-bin. From the resulting corner Durham managed to create a shooting opportunity and grabbed the equaliser.
Alderley survived their spell with 10 men, but it was Durham who took the lead when neat skill gave the forward a run at the base line and as the last defender went to challenge he squared to an unmarked team mate who slapped home from close range.
The game was far from over and it was Alderley who had a good spell of attack with Simon Parr leading the charge working hard to win the ball and then supporting the forwards. It was during this spell of endeavour that Alderley won a penalty corner and Andy Jackson made up for his earlier indiscretion firing in to make the score 2-2.
The game continued to flow from one end to the next and Riley was forced into a couple of good saves from another corner and from open play as Durham went looking for the victory. The more they pushed on the more open they were at the back and Alderley could have grabbed the win as Sam Gregory, Joe Coxon and Adam Wildig were all denied late on in almost identical fashion by the Durham 'keeper as he slid out to smother their shots. Both teams will believe that they should have had all three points, Durham due to better possession but Alderley had the better chances, so a draw was probably a fair result.
The second team travelled to Liverpool Sefton and probably produced their worst display of the season, in a scrappy game they went down 3-0, finishing the game with 9 men as Scarsbrook and Chris Hardy both saw yellow. However, results elsewhere went in their favour and they are 2 points off third spot with a game in hand.
The third team continued their fine season with a crushing 6-1 home win over Llandudno, the scorers were Rob Marks (2), Chris Taylor, Karim Ghazanfar, Andy Walker and an own goal. The star performer was Jim Martin promoted up the teams and was defensively solid and excellent in possession. The result leaves 7 points clear at the top with 4 games to go and 15 clear of their promotion rivals, so another title is on the horizon.
The fourth team's crucial game with Denbigh fell victim of the weather. They still lead the league by a single point with a game in hand.
The 5s are also top of the table after their trip to Runcorn. Alderley were more composed in control of the ball and worked harder off it and ran out 7-2 winners. the goals came from Fin Allenby, Louis Godfrey, Xander Cowap, Ed Kennon and a hat-trick from Chris Sinton.
The 6s were also victorious beating Deeside Ramblers 4-2 and the 7th team drew their friendly with Buxton 1-1.
Photo: James Warburton who opened the scoring.
Match report by James Riley.
Tags: