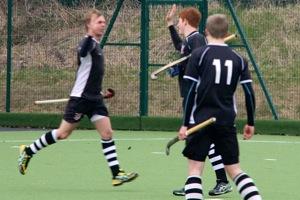 Alderley Edge Men's Hockey 1st XI ended pre-season with a win against Bebington 1st XI. The match began at a slow pace with Alderley's controlling possession for long periods. However, it was Bebington who took the lead, capitalizing on a break away goal that was eventually bundled in after Riley had made an initial save.
Conceding seemed to reinvigorate the Alderley side who did not take long to equalize with a well worked goal. By half time the Alderley attack of Coxon and the Gregory brothers Sam and Ben had put two more past the Bebington defense, leaving the score at 3-1 at half time.
The three first half goals seemed to have put the sting out the Bebington team who began to feel the strain of a well organized Alderley midfield who started to turn over the ball with regularity in the second half.
Parr, Bryant and Hall found good rhythm in the second half and began to find holes in the Bebington defense. A well worked short corner dispatched by Simon Parr essentially killed off the game, despite the occasional break away that kept the Alderley defense on their toes.
The game ended 5-1 to Alderley, who will be pleased with the result and their overall preparation coming into the season. They should be confident going into their first league game in which they will play Gateshead next weekend.
Match report by Ben Whitehead.
Tags: