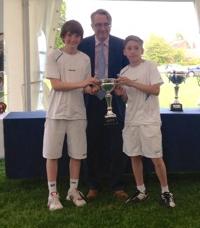 Following on from last year when three teams were promoted and many players made the finals of the NE Cheshire League One Day Tournaments, AECC's tennis juniors are enjoying continued success this season.
The majority of winners at the Junior Open held at the Club early in the season were AECC juniors and the u12 boys dominated the doubles and singles finals at the tournament recently held at Bramhall Queensgate.
Following on from this, Leo Cullis and Gus Fiennes were winners at the IAPS Tournament held at Repton School this weekend where 80 teams from 22 schools were represented. They reached the U12 Final beating the favourites 6-2.
Christine Cullis, mother of Leo, said '"The boys' win is testament to the coaching set up at AECC for team and future team players, as well as the league matches and tournaments players are encouraged to participate in.
This all adds to their enjoyment and development as tennis players."
Whilst Leo and Gus were winning at Repton, other Club players were taking part in the NE Cheshire Tournament held at AECC on Sunday where the u12 boys doubles finals was again between all Club members. Well done to Charlie Hambley, George Faulkner, Barney Wright and Billy Hedley - special mention also to 9 year old Paddy Wright and his older partner Johnny Murray who reached the semi finals.
Guest post by Jonathan Harari.
Photo: Leo Cullis & Gus Fiennes - winners of the IAPS u12 Boys Doubles
Tags: