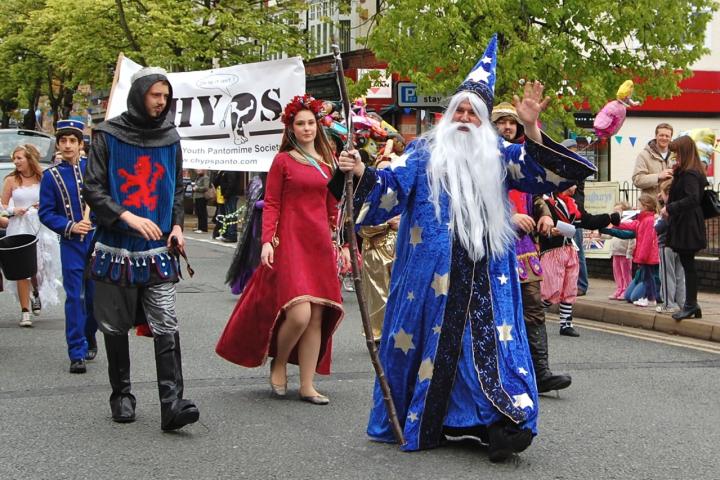 The organiser of the Alderley Edge May Fair attended this week's Parish Council meeting to request that the record is set straight about how she has run the last two village events.
Christine Munro spoke during the public participation slot to say:
"It has come to my attention during the recent discussions we have had with the Parish Council that the Council apparently holds the view that I have been running the May Fair for personal profit.
"I want to make it clear that neither I nor any member of my family have ever benefitted financially from the May Fair. On the contrary we have subsidised it through our own time, money and effort.
"Cllr Williamson has even go so far as to say that: 'As far as I am concerned on the Parish Council this year's May Fair was basically a money-raising scheme for Christine and her family,'
"He also alleged that in the first year I spent £800-900 on computer equipment which was charged to the May Fair. I have never had this allegation made directly to me. I want to make it completely clear that I have never purchased any computer equipment and charged it to the May Fair, and our Treasurer has confirmed this. Whilst Councillor Williamson has acknowledged privately that he was wrong he has not done so publicly."
Cllr Mike Williamson responded "I do openly apologise for the confusion there was in regard to the computer equipment. That was a genuine mistake on my part but as far as everything else goes I'll respond to you formally and I'm quite happy to put that letter in the minutes."
Christine Munro added "Cllr Williamson has also claimed that we failed to provide proper accounts for the May Fair. This is also wholly untrue. All the minutes and accounts have been made available to participating organisations, some 50 in total, including the Parish Council. They are available on request to anyone else who would like a copy and we are happy to answer any questions they may have on them.
"The May Fair has never been a commercial event run for personal profit. All monies raised were dealt with by the Treasurer of Soroptimists in the first year and by the Treasurers of WIlmslow & District Lions Club in the second year. All monies received for the May Fair has always gone and continues to go into the May Fair bank account.
"Through various activities, especially the Farmer's Market, I have since 2005 raised over £33,000 for charities. I have always kept a very clear distinction between monies earned by my family business and those raised for charity."
"I am shocked at the behaviour of the Parish Council in relation to this matter. As a publicly accountable elected body, I now look to them to set the record straight."
Cllr Williamson added "First of all about the accounts, I know they're available. I know you sent last year's accounts to a couple of councillors and I saw accounts that were put in to the Alderley Edge Institute Trust because I'm a trustee from the first year when you were applying for money from the Institute Trust.
"The point we have always made, the thing we asked for at the Parish Council following the first May Fair, and what we've said subsequently said is, as this May Fair is supported by public money, you receive money from Cheshire East and you receive money from the Institute Trust, what we ask for is that you publicly publish your accounts. That's all we ask for, now you may think that you've done that, that's up to you but we don't think that you have so that's a difference of opinion.
"We will continue to answer your questions, if you have further questions, and we will continue to demonstrate our support for the May Fair in so far as we are able.
"In terms of whether its a commercial enterprise, or not, the point I made in your letter and people will be able to see when it's public is that the money that is made during the May Fair is not simply all money being put back into the May Fair account, the stall holders come in, they sell things, they provide services, make a profit and they leave - the one question I asked you when I gave you a reply, which we'll put in the minutes, is can the May Fair explain to the village and to the press what the public benefit is to the village from the May Fair."
Geoff Hall responded "We can demonstrate that very clearly."
Cllr Mary Maczkowiak said "There is obviously bad feeling here. I would like this to go away and I would like to work with the May Fair to try and get these misunderstandings and misconceptions because this is something I have always wanted for the village. I have always wanted the May Fair or Rose Queen brought back and initially approached Christine when I was chairman so I would like to volunteer to personally be involved."