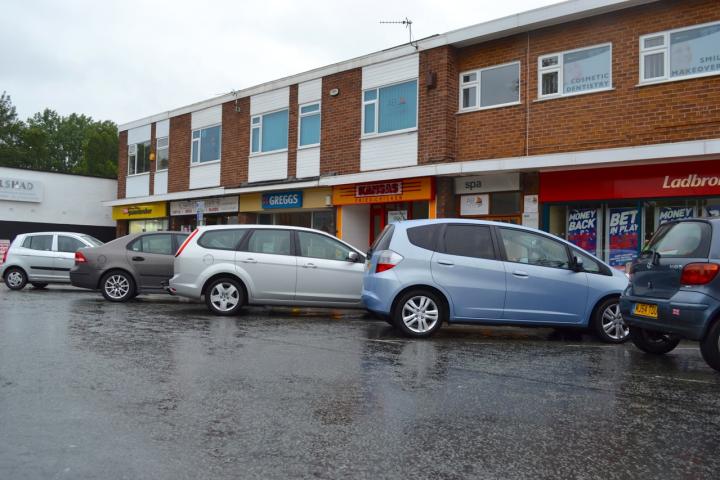 I believe that most people consider that there is a lack of parking in the village. Especially within easy reach of the shops along London Road.
Consider the 'theoretical' idea of how much extra parking could be freed-up by a change from parallel parking to at-an-angle parking.
Terminology... the correct term for parking-at-an-angle seems to be 'echelon' (or possibly 'chevron') parking and the correct term for parking alongside the pavement is 'parallel parking'.
I visited the 'echelon parking' by the shops in Handforth... I have no idea as to any change in size of bays since those were provided, so I'm using the measurements from there... each bay is 8 feet (2.44 metres) wide... any disabled bays are of course much wider. Echelon parking bays in a pub car park that I measured were narrower at 7'6''. I can manage to park a Range Rover in the Handforth 8' bays without difficulty. There may be regulations on bay widths nowadays, I don't know.
I assume that on London Road, echelon parking would only be possible on one side of the road.
I used the length of London Road, between the yellow lines from the pastry shop (Clifton Street) to the yellow lines outside the post office (Stevens Street) as an example... this is 61 yards/183 feet (56.8 metres)... divide that by 8 feet bays = 22/23 cars. (My measurements may not be exact, but I'm only using them as an example, so please bear with me).
There were 10 cars parked along this example length of London Road when I first counted and 11 crammed in the next day... either way, to move from 10/11 cars to a possible 22/23 cars is a significant improvement...if this is extended further along London Road, perhaps we could solve the parking problem in one go!
Cars parked in echelon/chevron style will stick out further into the road; I think that 15 feet is probably the maximum. There are white lines at present, limiting how far out from the pavement a car can be parked, so we're not talking of an additional 15 feet.
There is a legal minimum amount of roadway needed for two-way traffic (I don't remember it but I do recall that it is a surprisingly narrow distance e.g. on the road bridge by Heyes Lane, there is enough roadway to allow a second pavement, on the side where there is currently no pavement and still have two-way traffic).
Your thoughts welcome.
This is a member post by Cllr Duncan Herald.
Tags: