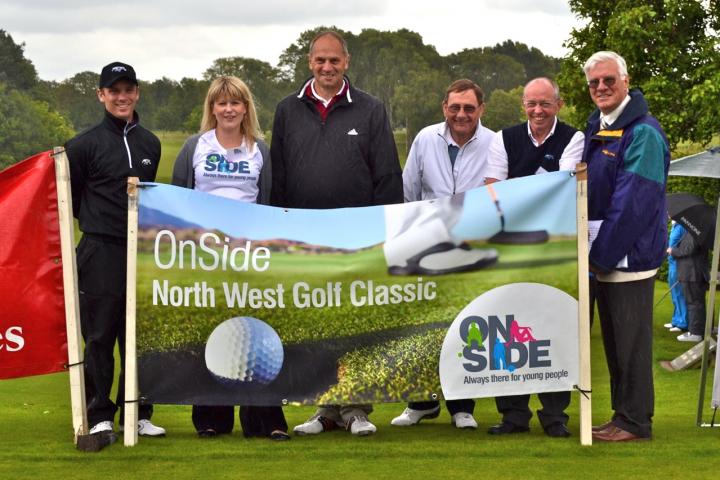 The Rotary Club of Alderley Edge and Bollin Valley helped organise the Sir Steve Redgrave Golf Classic which was held at Wilmslow Golf Club on Thursday, June 23rd.
Despite the rain, which at times was torrential, twenty six teams took part and raised £23,000 for OnSide. This is a newly established charity, set up to bring together the public and private sectors across the North West to develop strong local partnerships to build new, world-class, town and city centre facilities for young people.
In May 2008, to kick start this strategy, the Government launched the myplacefund, which will deliver £190m of Government capital investment, over three years, through grants of between £1m and £5m. OnSide is working to support the development of local projects that will ensure best use of this very welcome investment to design, build and operate sustainable flagship centres for young people across the region.
Having won an incredible five Golds in five successive Olympic Games from 1984 to 2000, Sir Steve Redgrave is a truly iconic hero and since retiring from competitive sport, Steve hasn't broken the habit of exceeding his targets.
The Steve Redgrave Fund forged its way beyond the £5 million target that Steve set when launching the charity in 2001. More recently, Steve was part of the team that won the bid to host the Olympics in 2012 and he is now committed to ensuring the event provides a lasting legacy for sport in the future.
Passionate about providing youngsters with the best opportunities in life, Steve is an ambassador to myplace and, as a keen golfer, Steve was delighted to host the OnSide Charity Golf day.
The golf classic was followed by a prize giving and presentation by Sir Steve Redgrave, charity auction and dinner.
Photo: Matthew Gillingham, Rachel McCrystal, Sir Steve Redgrave, Eric Ireland, Andrew Henshall and George Hutchison.
Tags: