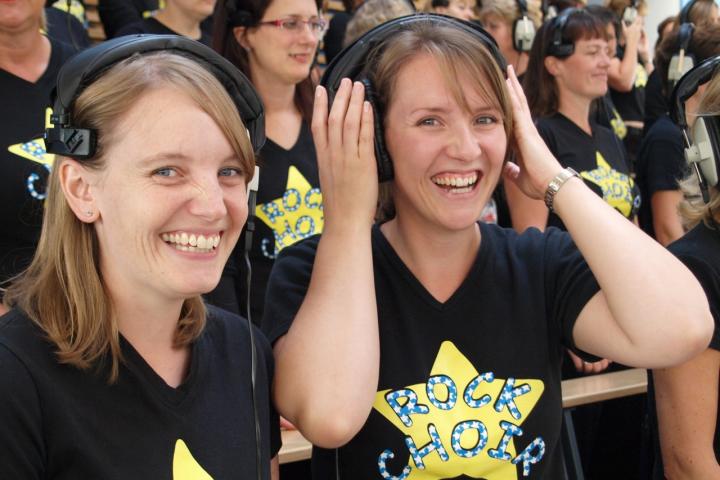 Established in 2005, Rock Choir is the largest contemporary choir in the UK, offering the general public an opportunity to sing rock, pop, gospel and Motown songs, without the need for previous singing experience.
It provides up beat and feel good weekly singing sessions for juniors, children from age six, teenagers and adults - and next month people will be able to try a free Rock Choir taster session in Alderley Edge.
With highly trained choir leaders, each with musical qualifications and experience in singing and performance, Rock Choir offers a consistently high level of choir leadership and a polished and professional environment in which anyone can be trained to sing. Many of the members have never sung in public before and are given the opportunity to perform, as part of the Rock Choir experience.
Rock Choir have announced their arrival in Alderley Edge to coincide with the launch of its debut album 'Rock Choir Vol. 1' to be released on July 5th by Universal, the world's largest record company which is home to great artists like Lady Gaga, Take That and The Rolling Stones. Part of a multi-album record deal, Rock Choir Vol. 1 is described by Tom Lewis, Head of A&R for Decca Records, Universal's label, as 'the feel-good album of the year'.
Rock Choir has caught the attention of the National media, being described as a "A National Phenomenon" and 'the people's choir' and has appeared in the Saturday Times, The Sunday Times Culture Magazine, The Express, The BBC Breakfast Show, The Paul O'Grady Show as well as various magazines and publications supporting the pioneering spirit of the business.
Maxine Cherrie, a Cheshire Rock Choir leader, said: "I'm really excited to be starting my journey with Rock Choir and opening a new choir in Alderley Edge. Rock Choir is a unique community-based singing experience which is fun, glamorous and for many can even be life changing. If you'd like to come and try us out come along to a free taster session."
Tom Lewis added: "Rock Choir is a phenomenon. When you hear them sing, it makes you feel fantastic. It's totally infectious stuff."
Rock Choir is available to everyone, there are no auditions and is no need for previous singing experience. Free taster sessions will be held at St Pius X RC Church Hall, Stamford Rd on Wednesday 7th July 8 to 9.30pm and Thursday 8th July 11am to 12.30pm. To book your place or join as an official member visit the Rock Choir website or call 01252 714276.
Tags: