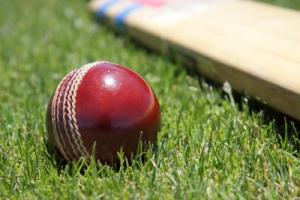 Alderley Edge First XI were left frustrated by the weather at Moss Lane on Saturday as persistent rain put paid to their efforts to close ground on current Cheshire County Premier League table-toppers Didsbury.
Winning the toss the hosts chose to bowl first in humid conditions but could only manage three overs before the first rain interruption of the day. On resumption opener Tim Hughes battled hard to make 31 to get Didsbury's innings off and running in the seamer-friendly conditions.
Moving to 82-1 Jimmy Naylor delivered a hammer blow in removing Hughes and then number 4 Rob Sehmi, off the back of a hundred the previous weekend, in consecutive deliveries before rain again halted proceedings leading to more overs lost from the game.
Didsbury's Australian number 3 Ed Newman held the innings together after surviving several close appeals, particularly to Andrew Windle, who kept the visitors' number 3 under pressure as he made his way to 50 before Windle claimed opposition captain Nick Anderson to leave Didsbury on 116-4.
Newman added 53 for the 6th Wicket with Steve Green who struck 25 to lift the current league champions to 176-5 before Naylor's second burst accounted for both Green and his brother James in consecutive balls.
The returning Richard Wilkinson brought Newman's long vigil to a close on 78 from 108 balls thanks to a superb one-handed diving catch from wicketkeeper Sam Perry as the seamer claimed 3-37 for the afternoon and Naylor secured his five-wicket haul clean bowling Tom Bidwell to close the innings on 191 off 50.4 overs.
With the rain rules dictating that overs were lost from the second innings, having bowled out Didsbury before they reached their maximum allocation of 55 overs in the first innings this gave the hosts a precious 4 extra overs leaving them 34 overs to chase Didsbury's total.
However, the second innings got no further than 3 deliveries as more rain arrived followed by a period of thunder and lightning that quashed any hopes of play resuming with Alderley left frustrated after a strong bowling performance had given them the chance to claim a victory that would have seen them potentially jump to the top of the table. Instead, Didsbury claimed 8 points to Alderley's 7 as the entire Premier League fixture list was washed out.
In Second XI action Alderley claimed 13 points from a drawn match at Bramhall that saw opener Alan Day hit an unbeaten 126 and Henry Stevinson 47 not out as Alderley racked up 218-1 after being asked to bat first.
Three wickets for Ollie Kenyon and two for Max Wilson helped reduce the hosts to 153-7 in the second innings but a solid knock of 88 from opener Stewart Jackson was enough to prevent Bramhall from being bowled out, with the hosts taking 8 points from the encounter.
On Sunday rain accounted for Alderley's Third XI fixture against Timperley denying them an opportunity to climb further away from the relegation spots in the Third XI Premier Division as they look to improve on their current seventh-place position.
Match report by Andrew Windle.