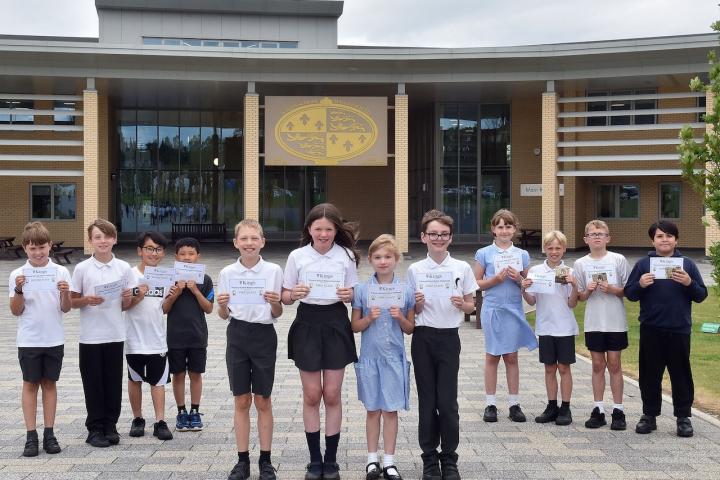 Alderley Edge Community Primary School were crowned winners of the King's School annual Primary Schools Maths Challenge.
After competing against 11 other local primary school teams of four, one of the winners Gregor Wilson, said: "I love solving problems and I give this school day a ten out ten. It was such incredible fun."
Teammate Grace Harris added: "It pushed me to work harder, think more deeply and try some types of maths I just had not seen before."
Oliver Shotton agreed: "It pushed the limits of my brain and I felt I really had to think hard." While Olivia Caldwell added: "It taught us to work as a team, not to talk over each other and allow everyone else time to think."
In second place were St. John the Evangelist and in third place were Marlborough. The other schools taking part in what has become a key day in the King's School's calendar were: Ash Grove, Hollinhey, Upton Priory, Mottram St Andrew, Rainow, Bollington St. Johns, Broken Cross, Gawsworth and Marton and District.
Proud mum and Alderley Edge Community Primary administrator Mrs. Shotton who accompanied her team of four on the day, said: "We are all ecstatic and just a little bit surprised. It was such a challenging competition, but our team worked very hard and kept their thinking hats on all day long."
King's School's Head of Mathematics, Timothy Jones, said: "It was a very special and exciting day for the King's Maths Department; working with such sharp and receptive young minds is always an absolute delight. Our objective is to try and build the students love of Maths and problem-solving and to offer an opportunity to extend and challenge some of the brightest local young mathematicians."
Tim added: "Maths develops logical thinking and problem solving. It shows the ability to follow and understand set rules to develop strategies to find unknowns.
"If you want to develop your child's mathematical ability you should allow the students the freedom to investigate and make links for themselves. This often needs structure but will help to embed deeper understanding."
Pictured from left to right are runners up St. John the Evangelist: Joshua West, George Froehlick, Jun Wang and Silas Leung; Alderley Edge Community Primary: Oliver Shotton, Grace Caldwell, Grace Harris and Gregor Wilson. Third placed team Marlborough: Lilian Campbell, Cormac Teale, Theo Chadwick and Liam Tiplady.