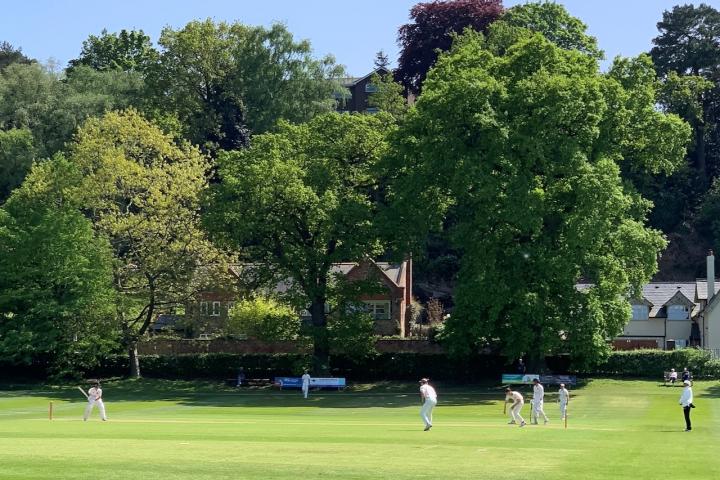 Alderley Edge First XI secured two victories against strong opposition at Moss Lane over the weekend in both the Cheshire County Premier League, where they consolidated second place in the table, and in the ECB National Knockout competition.
On Saturday Alderley hosted Hyde, who were league front-runners for much of last season, with Sam Perry choosing to bat after winning the toss. An opening stand of 133 powered the home side out of the blocks on the back of a brutal maiden hundred for Ben Kohler-Cadmore who struck 10 sixes in amassing 126 from just 85 balls.
With Kohler-Cadmore departing on 168-2 Alderley's middle order lost momentum slipping to 184-5 as Andrew Jackson (2-58) and Hyde skipper Daniel Cranmer (2-45) led the fightback with the ball but Alderley's number 7 Charlie Barnard played a composed knock of 40 not out against his old side to push the hosts past 250 eventually closing on 263-8 from their 55 overs.
Picking up four wickets in his opening spell, Richard Wilkinson set Alderley on their way in the second innings, and with the home side's varied bowling attack showing its full potency Hyde quickly fell to 87-7 before Cheshire's Luke Young with 52 from number 7 provided some later order resistance alongside Cranmer to take the score up to 124-8.
A tidy spell of 2-23 from Charlie Reid helped to push the Hyde innings to the brink before Wilkinson returned to end the stubborn resistance of wicketkeeper John Ashley to claim 5-33 and hand Alderley victory by a comprehensive 109 runs.
On Sunday Alderley hosted Birmingham Premier League powerhouses Knowle and Dorridge in the ECB National Knockout competition in a 40-over contest with the visitors counting former England and current Nottinghamshire all-rounder Samit Patel amongst their ranks. The visitors won the toss and elected to bat first, making swift progress to 64-1 before a superb one-handed pick-up and throw from James Naylor ran out Ethan Brookes to bring Patel to the crease.
Patel played carefully in working his way to 21 before advancing down the wicket to spinner Charlie Barnard who turned one sharply past the outside edge for Sam Perry to complete a tidy stumping on the stroke of the mid-innings drinks break.
From 108-2 Alderley rallied to reduce the visitors to 114-6 on the bck of Barnard and Naylor both claiming two wickets each with Knowle & Dorridge's number 5 Alex Phillips hitting 47 to marshal the innings into the latter stages before falling to Dan Fesmer who showed skill and nerve in taking 2-28 in the final overs to close out the first innings on 199-8.
Knowle and Dorridge's attack struck regularly at the beginning of the second innings to leave Alderley on 56-3 before a partnership of 70 between Subhaan Mahmood and Richard Wilkinson put the hosts in control. Wilkinson falling for a hard-fought 42 sparked a mini-collapse in Alderley's middle order with the hosts slipping from 126-3 to 135-6 as the visitors spin attack began to take hold.
Mahmood continued to play superbly throughout however, neutering the canny Patel and counter-attacking when the opportunity presented to bring up his half-century; and with the help of a swift 19 from James Naylor and 10 off 4 balls from Dan Fesmer, Alderley began to lift their score above the required rate as steady rain began to fall in the final overs.
With Fesmer becoming Hamza Shaikh's third victim it was left to number 10 Andrew Windle to hit the remaining 3 runs required to reach victory with 10 balls to spare, Mahmood remaining unbeaten on 71 in a match-winning performance.
On Saturday Alderley's Second XI had an afternoon to forget in a swift encounter with neighbours Macclesfield. Winning the toss Macclesfield chose to bowl first and swept through Alderley's batting line up in 24.4 overs as the visitors registered just 54 with 6-16 from Will Jennings proving the most damaging.
Max Wilson (3-20) and Katie Hazseldine (2-22) took early wickets to give Alderley a chance in the second innings as Macclesfield fell to 35-5 but 26 not out from Dan Evans proved the most telling innings of the day taking the hosts to a five wicket win in the 14th over.
On Sunday Alderley's Third XI fell agonisingly short of victory at Marple after bowling the hosts out for 158 with Charlie Boddy (3-12) and Katie Haszeldine (3-29) leading the visitors' attack, Adam Garside top-scoring with 60 for Marple. In the second innings 25 runs each for openers Alfie Usher and Ashray Bhamidipati set Alderley a strong platform for their chase but 3 wickets apiece for Langa Thebe and Garside swept away Alderley's middle order leaving them 2 runs short of victory despite a valiant 20 not out from number 8 Charlie Boddy.
Match report by Andrew Windle.