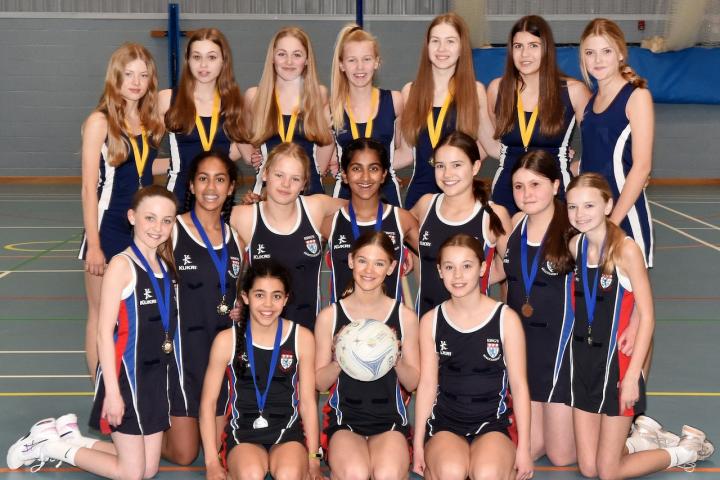 Promotional Feature
The King's School's youngest hot shots hit the heights in the Cheshire County Championship Netball Finals. The school's U13s lifted the trophy with a near perfect display against The Grange.
The superb U13 team put together some fast paced, strategically intelligent performances to win the final by an astonishing 16 - 1 margin, having previously beaten Lymm, Upton, Fallibroome and Bishop Heber in the round robin before taking out Wilmslow 12 - 5 in the semi-final.
Melanie Stephens, King's U13 netball coach, said: "It was a strong, all round performance built on clinical finishing, wonderful feeds from the centre court players and impressive play from defenders, that decisively turned defence into attack."
Melanie added: "It was impressive to reach the semi finals of the national Independent Schools Cup, and the girls narrowly missed out on a win so to bounce back showed great spirit and determination. It was the second successive year this group has won the county title and they will no doubt continue to contend for national honours as they progress through the school years."
Goal Shooter Minnie Farooq and Goal Attack Lottie Baxter simply could not miss in the 16 - 1 win, converting a series of telling assists from Wing Attack Grace Taylor and Centre, Tilly Collins. Isabel Challinor was brilliant with her precisely timed interceptions at Goalkeeper, with Bella Wright, Hattie Usher and Lola Bianchi each making telling and stylish contributions throughout the tournament.
This latest County Trophy will be added to that of the King's U18 Netball Squad, who also won their age group County Championship earlier in the Spring.
The U12 King's squad seemed on the course to make it a King's treble, but lost 3 - 1 to The Grange in the Final. Earlier they had put all comers to the sword beating, Hartford 17 - 3 Lymm 15 -2, Alderley Edge School for Girls 14 - 1 and Queens Chester 8 - 1 in the semi-final. Their success was built on the power-house partnership of Lottie Winterton and Eva Sheppard, who controlled the games throughout the tournament and accurate shooting from Mia Clements, Apolonia Olpinski and Naina Vasireddy. U12 Coach Lisa Booker said: "The final really could have gone either way, but these girls will return stronger and even more determined."
Photo - King's under 13s at the back and the under 12s in the middle and at the front.