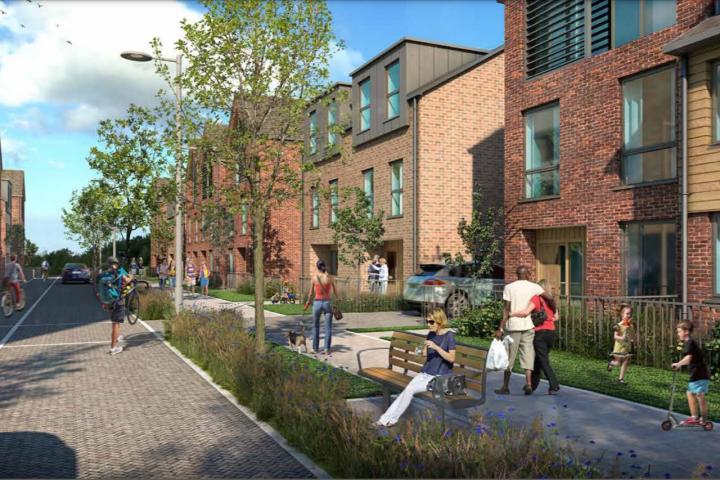 Revised plans, submitted by Engine of the North (the property company owned by Cheshire East Council), detailing the proposals for the development of the Garden Village at Handforth are due to be determined by the Strategic Planning Board next week.
The proposal is to create one of the fourteen national Garden Villages on a 121ha site located to the east of the Wilmslow-Handforth Bypass (A34) and south of Manchester Airport Eastern Link Road (A555).
A hybrid planning application was submitted in May 2019 and this revised application remains in two parts:
Outline planning application, including: demolition works; around 1500 new homes; new employment uses; new mixed-use local (village) centre ; new green infrastructure; and associated infrastructure. All detailed matters (appearance, means of access, landscaping, layout & scale) reserved for subsequent approval.
Full planning application for initial preparation and infrastructure works including: ground remediation, re-profiling and preparation works; highway works; drainage works; utilities works; replacement A34 bridge works: green infrastructure works; and other associated infrastructure.
Changes and updates to the proposed development include:
Amendments to the Site Location Plan to correct ownership boundaries (west of A34),
Amendments to the Country Park (east end of village high street) to improve its design, levels, and future usage as a focal point for recreation.
Expansion of the School site to accommodate both primary and secondary school provision on-site, including sports pitch requirements.
Repositioning of the surface water drain pond linking to the watercourse at Spath Lane
.Inclusion of a Heritage Plan to protect the setting of the listed buildings at Dairy House Farm.
Provision of a potential Energy Centre to facilitate a district heating network.
Amendments to the replacement A34 footbridge, and associated planting, to further mitigate the impact on residential occupiers to the west.
The Planning Officer is recommending the planning application for approval at their meeting on Friday, 13th January.
The revised plans can be viewed on Cheshire East Council's planning portal by searching for placing reference 19/0623M.
The report prepared by the Planning Officer can be viewed here.