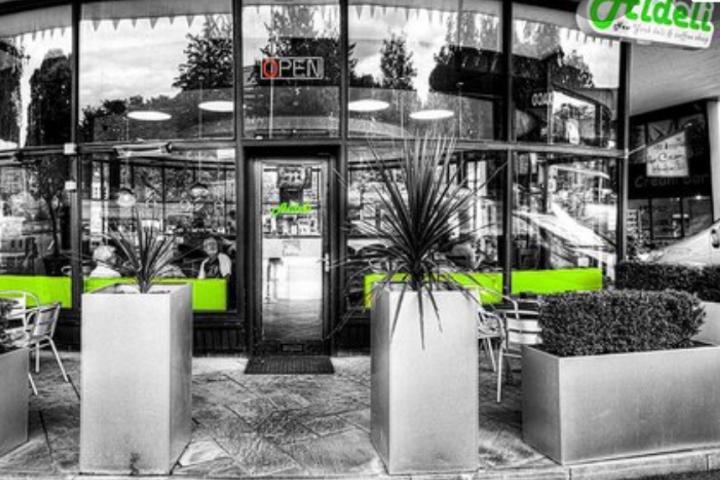 A family owned diner closed its doors on Sunday, 30th October, having served the local community for 11 years.
Aldeli, which occupied the 'flying saucer' shaped building opened in 2011 when the family decided to convert the former car showroom - which, along with the fuel station, was built in 1961.
Run by Ilana Higham, the welcoming deli was much loved by cyclists, motor enthusiasts and local residents including hundreds of local school children.
Speaking about the closure, Ilana said "With the economic climate as it is, impending astronomical rates and the food costs at such an all time high we are sadly forced to close our doors as we feel we are unable to go on in such uncertain times in the hospitality industry.
"We have had a fantastic run, and can't even begin to thank our wonderful customers along the way. We have made friends for life, watched babies grow up over the years and we want you to know how thoroughly grateful we are to you all for all your continued support, especially in the last few years when business has been at its hardest."
She added "From car meet ups, Halloween parties, Santa visits, crazy after school shenanigans, ice cream parties, endless BBQ's and of course our beloved @mavericks cycling Sundays (which have since spread to a Friday slackers group and Robbo's Saturday ride)....we have had a blast."
Ilana has confirmed that Tower Garage, which celebrated 100 years of servicing cars in Alderley Edge is unaffected by the closure of deli and also that is won't be end for them as they look forward to their next project.
Ilana told alderleyedge.com "In terms of the building we are taking a break from any decision making as these past few weeks/ months have really taken it out of us, however we look forward to the undergoing development plans we have for the site as a whole in due course.
"The closure of Aldeli won't have any disruption to the garage nor the petrol station and we hope to continue to see our friendly customers there and around the village."
Tags: