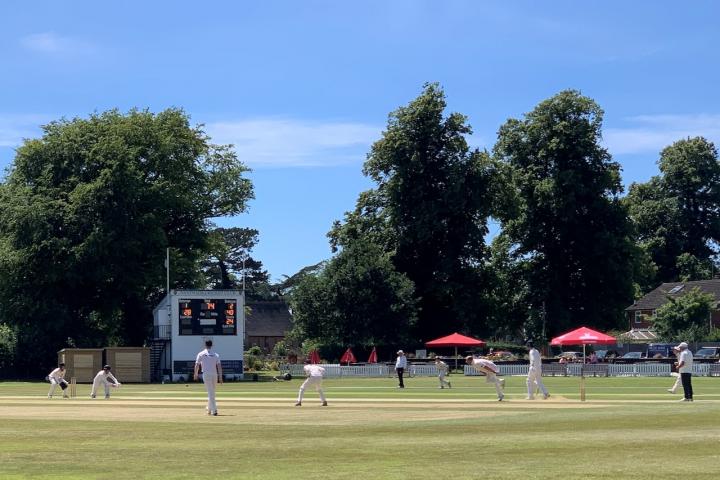 An outstanding aggregate of 219 runs across two games for opener Sam Perry marked a mixed weekend for Alderley Edge's First XI but signalled the return of some rare form for the Cheshire batsman. On Saturday Perry's score of 130 dominated the visitors' batting card at the home of reigning Cheshire Premier League Champions Nantwich as Alderley amassed 225-7 after winning the toss and electing to bat first. Perry added 104 for the first wicket with Ed Foster, who notched 33, and continued to accumulate steady partnerships with the middle order until being the final Alderley wicket to fall with the score on 224, skipper Ray Doyle leading Nantwich's attack with 3-56.
Nantwich's top order started their reply apace, heading to 24 in the first 6 overs but Alderley's openers Jimmy Naylor (2-25) and Andrew Windle (1-33) replied swiftly taking advantage of some new ball swing to claim three wickets whilst the score remained static. There were to be no further successes for Alderley's attack however as a 204-run partnership for the fourth wicket between Luke Robinson and Spencer Byatt swung things completely in Nantwich's favour. After a controlled start Robinson started to unleash some customary big-hitting, reaching his century with a flurry of sixes into the conifers lining the edge of the far end of the ground. Byatt, after starting scratchily, finished on 83 not out with the pair taking Nantwich to their target in the 42nd over. Alderley's total saw them claim maximum batting points to cushion the 7-wicket defeat slightly with a haul of 9 points from their trip.
On Sunday Alderley faced familiar opposition in the Cheshire Cup second round meeting Brooklands at Moss Lane for the third time in eleven days across all competitions. Perry was again to the fore striking 89 from just 79 balls after winning the toss and electing to bat first as stand-in skipper for the afternoon. Perry joined in a 116-run partnership for the second wicket with Ollie Kenyon who scored a well-measured 40. George Bell notched the same score from number four, and with number five Richard Wilkinson finishing with a quickfire 37 from 36 balls Alderley closed on 235-5 from their 40 overs, Caleb Jones the pick of Brooklands' bowlers with 3-51.
Things looked a little dicey for Alderley in the second innings as a fast-scoring partnership emerged between AJ Hart and Daniel O'Gorman who added 61 for the third wicket reaching 100-2 before Gorman fell to spinner Will Valentine for 39. A timely spell of 3-21 from Dan Fesmer helped turn things decisively in favour of the home side, the seamer picking up the key wicket of skipper Kevin Caroll for 9 before a smart piece of work from wicketkeeper George Bell effected the run out of Hart for 67. A spirited 23 from 20 balls from Caleb Jones, batting at 8 provided one final footnote to the visitors' innings before Fesmer and George Valentine (2-48) cleared out the lower order to give Alderley victory by 47 runs.
On Saturday Alderley's Second XI emerged with 9 points to Didsbury's 13 at Moss Lane as the hosts secured a draw against their table-topping neighbours. Winning the toss, Alderley chose to bowl first but found themselves on the back foot as Didsbury reached 120-1 on the back of Matt Laker's 60 and veteran opener Stuart Stoneman's 50. Alderley fought back to run through Didsbury's middle order for a string of single-figure scores to see the visitors declare on 263-9 in the 49th over. Ben Chapman led the attack for Alderley taking 4-62 backed up by David Johnson and Ashray Bhamidipati who each claimed two wickets.
In reply Alderley made a good fist of the chase with number 4 Tejas Rao hitting 52 from the number 4 berth, followed by Number 6 Henry Stevinson with 36 and Number 7 Andy Kennedy with 37 not out but Didsbury's experienced bowling attack did enough to keep the scoring rate in check and ensure they neutered the threat of an upset. Tom Bidwell took 3-40 for the visitors as Alderley closed on 218-6 in a solid performance against the current Second XI Premier League Champions.
On Sunday Alderley's Third XI had an afternoon to forget with a ten-wicket defeat at Hyde. Winning the toss and bowling first the hosts skittled Alderley for 137 with opener Calum Wilson top scoring with 24 and a defiant 21 not out from number 10 Daniel Woolf giving Alderley something to defend with the ball. However the visitors' total proved to be little challenge for Hyde with opener Charlie Hewitt hitting 94 not out from just 55 balls to see the home side over the line in the company of Mark Koehler who finished unbeaten on 32.
Report by Andrew Windle.