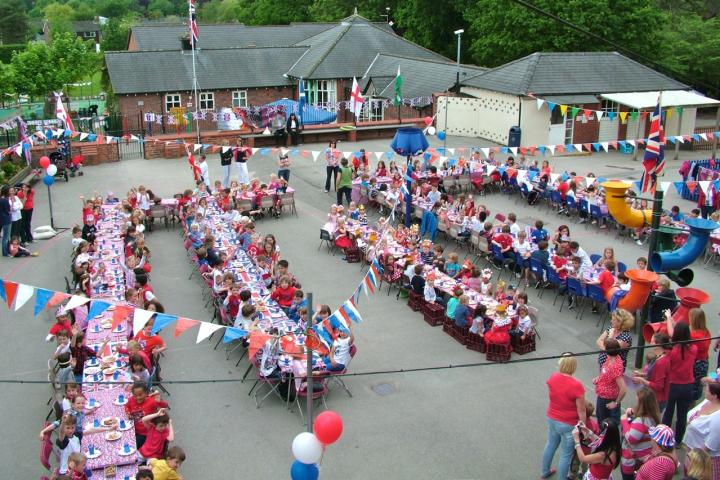 With celebrations for the Queen's Platinum Jubilee coming together across the Country, from Thursday 2nd June to Sunday 5th June, Alderley Edge Parish Council are also planning for the special weekend.
At their meeting on Monday, 15th March, the Parish Council approved a budget of £10,000 for their Platinum Jubilee celebrations, which includes a spend of around £3,500 to hire a large screen for the park and the same amount for a local blacksmith to produce a commemorative wrought iron gate for the entrance to the park.
Councillor Mike Dudley-Jones said "We have placed £10,000.00 into our budget so that we can play a lively part in these very special celebrations. It also seemed appropriate to leave a lasting memorial to the Queen's remarkable reign."
On the Saturday Buckingham Palace will host a large concert beginning at 3pm and continuing until 10pm. This will be followed by the Great Jubilee Lunch and the Platinum Jubilee Pageant on the Sunday. All of these events are being broadcast on the BBC and will be shown on the large screen in the park.
Councillor Mike Dudley-Jones said "Many families will want to organise Street Parties and get together with friends and there are no restrictions on doing that. But not everyone lives in a place where street parties are easy to arrange!
"The Parish Council has ordered a giant screen to be erected in Alderley Edge Park so that anyone in the Village can set up a 'picnic' party at the Concert on Saturday and/or arrange for special lunch parties on the Sunday. It's 'bring your own food and wine, tables and chairs (and dare I say it, gazebos!) time' in the Park for what we hope will be a wonderful, joyous celebration together.
"It should be great fun! Our local hospitality venues in the Village will also be offering special takeaway menus for delivery to the Park so really, what's not to like?!
"There will be copious quantities of bunting, Union Jacks on flag poles, Queen's Canopy trees and our Village Planters freshly planted with quite a lot of red, white and blue! It should be quite a community event!"
He added "Working closely with Cheshire East Council, and ANSA, the Parish Council have also commissioned a set of wrought iron Jubilee Gates into the Park from the Ryleys Lane Car Park, as a long term Jubilee Memorial to Her Majesty The Queen. These will be erected later in the year."
Photo: Alderley Edge Community Primary School marked the Queen's Diamond Jubilee with a big celebration in June 2012.
A programme of events will be produced nearer the time and added to the events calendar.