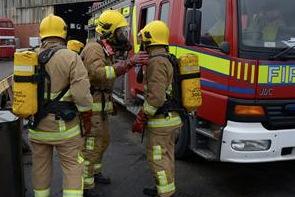 Firefighters were called to a report of smoke coming from a tumble dryer at a pub in Heyes Lane, Alderley Edge at 4am on Sunday, 23rd January.
Two fire engines attended, from Poynton and Wilmslow. On arrival at the Drum & Monkey they discovered the tumble dryer was on fire on the first floor.
A water supply was set up, the electricity supply was isolated and a firefighter wearing breathing apparatus extinguished the fire, which was contained to the tumble dryer, with a hose reel jet. A covering jet was also used.
Once the fire was out the tumble dryer was taken to a safe place outside and a large fan was used to clear smoke from the pub.
No-one is believed to have been injured as a result of the fire.
An occupant was suffering from the effects of slight smoke inhalation. Firefighters called an ambulance for her.
Firefighters were in attendance for around three hours.