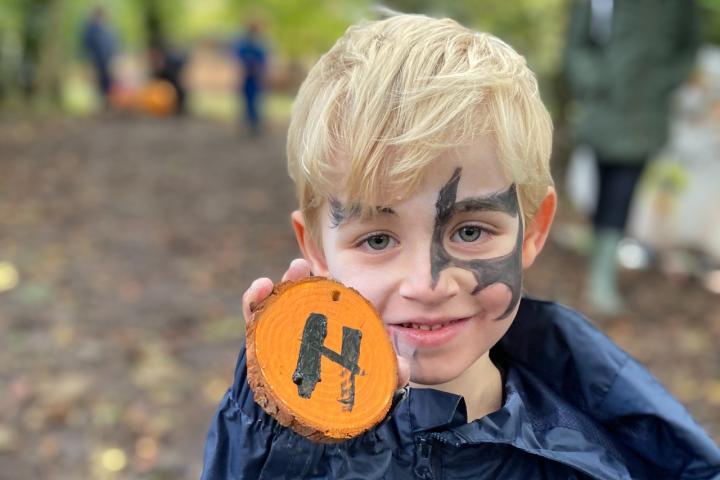 Promotional Feature
On Sunday 31st October, Pownall Hall School hosted its first Halloween Forest School themed event in association with Forever Wild Forest School.
The event was a huge success and was fully booked with local children and their parents attending. The Halloween themed event, which was aimed at children between the ages of 18 months and 7 years, provided numerous natural based activities including making wood sliced pumpkins, clay spiders, twig wands and broomsticks.
As well as craft activities, there was time for the children to explore the Forest School. There was a potions laboratory with varying sizes of bottles and coloured water for mixing, there were pumpkins for hammering and a Halloween themed sensory tray as well as Halloween decorations in abundance.
Headmaster at Pownall Hall School, David Goulbourn, said: "We are delighted to be working with Forever Wild Forest School to host a variety of events for the whole community to attend. Our beautiful Forest School is the perfect setting for children to enjoy nature and all the benefits of being in the great outdoors.
Emma Yates, Forever Wild Forest School added: "We are thrilled to be working with Pownall Hall School to bring Forever Wild Forest School to Wilmslow. Forest School experiences can be so beneficial to the mental and physical health of people of all ages and can also help to support children in particular, to develop social and academic skills too.
"We are delighted that the beautiful setting in the grounds of Pownall Hall School offers such a wonderful outdoor environment for our community to discover, explore and reconnect with nature. Come along to enjoy all the benefits that our forest school sessions have to offer you and your family at our new woodland haven at Pownall Hall School in Wilmslow!"
Forest Babies at Pownall Hall School will be starting on Wednesday 10th November from 12.30pm to 2.00pm and is open to babies from 0 to 18 months and their parents and carers. Enjoy quality time and peace with your baby. Read to them under the trees, enjoy our outdoor sensory play activity with your little one, engage in a simple nature craft by the fire while your baby rests or just relax in a hammock.
Wild Tots is open to children and their parents and carers from 18 months to 4 years will run from 10am to 11.30pm. These unique sessions offer an exciting blend of creative nature art and craft opportunities, sensory outdoor exploration, and woodland adventure. Children are free to play and reconnect with nature!
All bookings can be made via www.bookwhen.com/foreverwild
Tags: