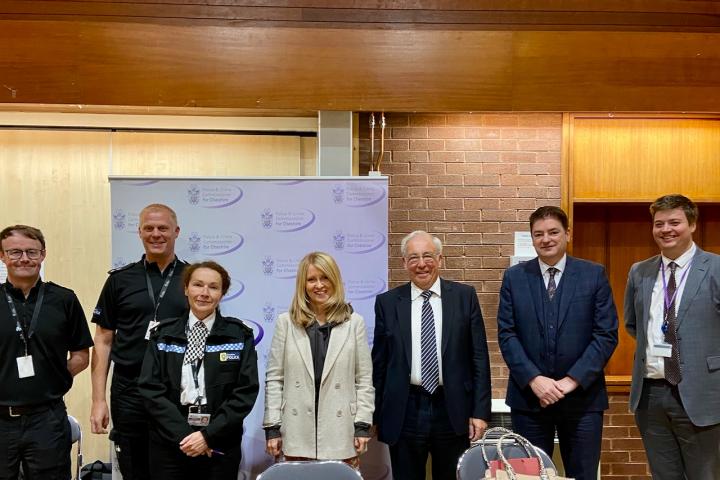 Around 20 local residents joined representatives from Cheshire Constabulary, Cheshire East Council and local elected representatives at a public meeting on Thursday, 23rd September to discuss speeding and anti-social behaviour (ASB) issues on the A34 in Wilmslow and Alderley Edge.
Police and Crime Commissioner for Cheshire John Dwyer arranged the meeting following a large amount of correspondence from residents about the issues the community faces. He chaired the proceedings where he and the panel took residents' questions and discussed potential solutions to the long-running issues.
John Dwyer, Police and Crime Commissioner for Cheshire, said: "I want to thank everyone who attended on the night and shared their views with me and the panel. I would also like to thank those who were unable to attend on the evening but took the time to submit their questions. The discussions we had and the feedback we received will help us to improve the situation for residents.
"I'm committed to following up on actions identified at the meeting and to finding answers for residents to any questions we didn't manage to get through on the night. This is clearly an emotive subject and something which plagues local residents daily."
Residents were asked to submit questions in advance and the panel discussed a range of issues stemming from them, including what enforcement action the police have already taken on the road, speed and noise cameras, and possible changes to the design of the road to deter the potential for collisions.
John Dwyer added: "A death or injury on our roads is one death or injury too many and I give my assurances that this matter is being taken seriously. Road traffic collisions can have devastating impacts and I am committed to taking action.
"There were a number of pertinent points raised and I know I speak for the entire panel when I say we'll consider whatever solutions are necessary and workable to improve this issue for the local community."
Assistant Chief Constable Jenny Sims said: "Cheshire Constabulary remains committed to making our roads even safer. We will continue to run enforcement operations in the area and work with the local authority and communities to ensure more sustainable solutions are found."
Esther McVey, MP for Tatton said: "I was pleased to be invited to attend the meeting by the PCC and it was good to see so many people in the room who I have been in contact with on this, and many other, issues.
"I also thought the main concerns were well articulated by local residents and whilst most of the issues, it was agreed, sit with Cheshire East or the police, I have taken away some points around legislation and I will be pressing the relevant Ministers on those."
Cllr Craig Browne, Deputy Leader of Cheshire East Council and Chair of the Highways and Transport Committee said: "This was an important opportunity to listen to the views of local residents and I am grateful to the Police & Crime Commissioner both for organising the meeting and inviting me as a panellist.
"Cheshire East Council will continue to work together with our strategic partners in the Cheshire Road Safety Partnership, including the police and other emergency services, to identify appropriate solutions to the issues raised. I look forward to reporting back on our joint progress at a future meeting."
Cheshire Constabulary will shortly be providing a meeting summary which will include information about the actions to be taken and data regarding the number of incidents on the stretch of road including serious, and sadly fatal accidents which have taken place in the last few years.
Photo: Panel members at the A34 public meeting (from left to right) Insp Andy Baker, Insp Steve Griffiths, ACC Jenny Sims, Esther McVey MP, PCC John Dwyer, Cllr Craig Browne and Deputy PCC David McNeilage.