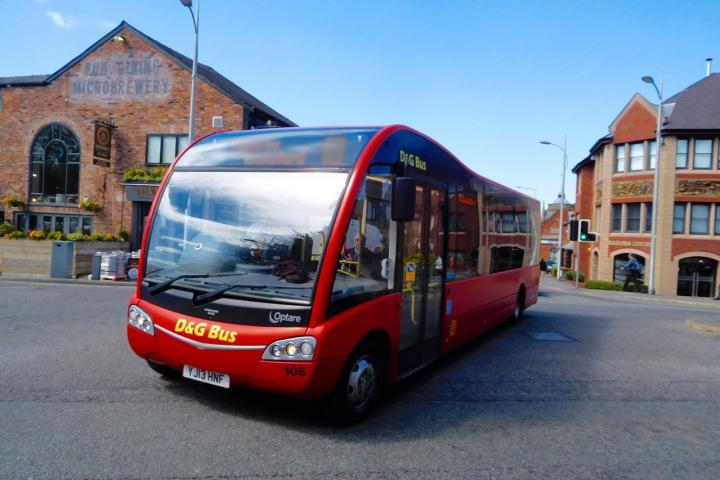 Cheshire East council has requested financial support from a group of local parish and town councils in order to subside the 130 bus service which currently run between Macclesfield, Alderley Edge, Wilmslow and Handforth.
As a result of an experimental joint venture between D&G Bus and Cheshire East Council, the service will be extended next month. From April 11th the 130 buses will continue beyond Handforth to serve Manchester Airport, Wythenshawe and Wythenshawe Hospital.
Cllr Craig Browne (Deputy Leader of Cheshire East Council) commented: "The 130 ceased to operate as a commercial service at the end of September 2020, since when it has been wholly subsidised by Cheshire East Council with the help of the government's Covid Bus Service Support Grant (CBSSG). With the CBSSG due to be withdrawn at the end of this month and Cheshire East Council unable to meet the full cost of subsidising the route, we have had to seek match funding.
"Over the past few weeks I have been having conversations with a number of local Town & Parish Councils and would like to thank them for responding positively. Collectively, Wilmslow Town Council, Handforth Parish Council, Nether Alderley Parish Council and of course Alderley Edge Parish Council have committed to match fund the cost of the bus service for an initial trial period of one year."
Cllr Craig Browne added "Over the course of the next twelve months, we are seeking to work with D&G to develop a Quality Bus Partnership which we hope in the longer term will result in an enhanced service for our residents.
"Our early discussions with the operator have already resulted in the service being routed into Alderley Park (a key employment site and currently a mass vaccination centre for the borough) as well as being extended to Wythenshawe Interchange (linking up with the GM Metrolink system) and on to Wythenshawe Hospital.
"As the Portfolio Holder for Public Transport, it is my hope that this funding model can be replicated in other parts of the borough, with Town & Parish Councils working in partnership with Cheshire East Council to deliver enhanced services for our residents."
A total of £40,000 is being provided by Cheshire East Council and this is being matched collectively by Wilmslow Town Council, Macclesfield Town Council, Handforth Parish Council, Alderley Edge Parish Council and Nether Alderley Parish Council.
Members of Handforth Parish Council agreed unanimously to provide a £10,000.00 subsidy for the 130 Bus service. Wilmslow Town Council agreed to make a £20K subsidy from April 2021 for a period of one year.
Wilmslow Town Council refused to provide the requested funding of £20,000 for the twelve month period from April 2021, instead they agreed to provide funding of £15,000, subject to Macclesfield Town Council funding the remaining £5,000.
Additionally, members of Nether Alderley Parish Council have approved a subsidy of £2,000 for the 130 bus service from 1st April 2021 for 12 months.
At the time of publication we are awaiting confirmation of the subsidy provided by Alderley Edge Parish Council.
Tags: