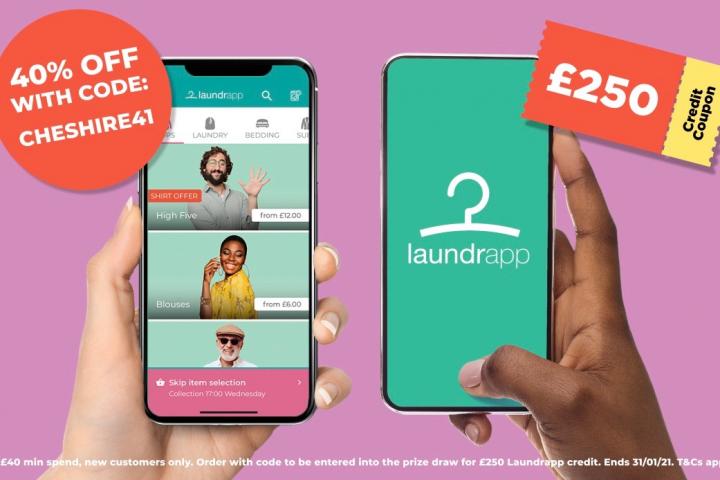 Promotional Feature
Laundrapp is the disruptive laundry and dry cleaning business helping households all over the country manage their laundry and dry cleaning from the safety of their homes, all through their easy-to-use app - and now the service has landed in Stockport, Cheshire and Greater Manchester.
The company, which won Best App at The Startup Awards and has been featured as App of the Day on the Apple App Store, is celebrating their recent expansion by running a prize draw for £250 of Laundrapp credit, enough for two 6kg laundry loads a week, for 8 weeks.
A life saver during lockdown
For those shielding due to COVID-19, Laundrapp has provided a safe alternative to having to visit the local launderette or high street dry cleaners. They provide a contact-free collection of your items from your home, take them away to be cleaned, and then return them spotless - all within 48 hours.
One Trustpilot user said "Laundering sheets, pillow cases and duvet covers is difficult and time-consuming. Living in a flat I don't really have the space here to dry items.
Having the Laundrapp collection and delivery service to the door continue during lockdown has been a real help and I'm so grateful to all the staff who have continued to work through this period."
Laundrapp has also been a saviour to over-stretched families juggling home-schooling, housework and working from home, with 92% of Mumsnet users surveyed recommending the service.
A call out to the 1 in 3 Brits who wash their bedding just once a year
A recent survey found that a massive 30% of British people admit to only washing their bedding annually, a statistic that Allan Warburton, Managing Director of Laundrapp, says is worryingly high.
Allan, who is from Gatley in South Manchester, commented "We know that washing sheets and bedding can be time-consuming and tricky, especially in the winter months when it takes longer for items to dry out, but it's particularly important during flu season.
Check the care label - most bedding can and should be washed at a high temperature to kill germs and help keep them white. Ironing your sheets will not only make your sheets feel extra soft, but will help destroy any residual bacteria too.
Our bedding cleaning service includes washing, tumble drying and ironing as standard, saving you countless hours and giving you hotel-grade comfort at home."
Why use Laundrapp?
Laundrapp cleans everything from suits, shirts, dresses and coats, to casual wear, school uniforms and baby clothes. They also take care of pillows, duvets, and other household items which are hard to clean at home.
Services include a simple wash, tumble dry & fold laundry service, a wash & iron service, or a dry cleaning service.
Laundrapp has also recently launched a 60C, hot wash laundry option, to help destroy germs and fight against COVID-19. Towels and bathmats are cleaned with an antibacterial solution as standard to help kill bathroom bacteria.
How do I enter?
Throughout January 2021 Laundrapp will be offering new customers a massive 40% off when they spend £40, by using the code CHESHIRE41 at checkout. Everyone who redeems the code will be automatically entered into the prize draw to win £250 of Laundrapp credit. The winner will be announced in the first week of February. T&Cs apply.
How it works
The service is very easy to use; simply click this link and follow these steps:
Download the app or go to laundrapp.com to see if your postcode is covered.
Select the service (you can choose individual items from the product menu, or, select the instant order option and Laundrapp will itemise your order for you back at the facility).
Choose a convenient collection and delivery time - timeslots are only 1-hour long so there's no waiting around!
Apply code CHESHIRE41 at checkout.
A Laundrapp driver will arrive at your door with a blue bag for laundry and a black bag for everything else.
You'll receive regular updates throughout the process and can track the progress of the driver as they make their way to you.
Laundrapp offers a happiness guarantee - if you're not completely satisfied with the result, they will re-clean the item for free.