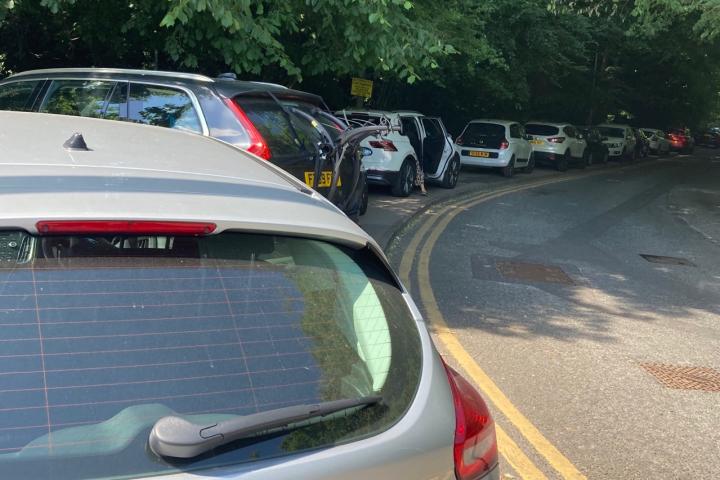 A local resident who has been pushing for action to be taken for months to address the ongoing problem of obstructive parking on the pavement along Cliff Road is at the end of her tether.
Jo Jeffers told wilmslow.co.uk "I am trying to fight it with the council but I am absolutely losing patience and hope.
"I just don't know what to do anymore. I feel like the community really cares, and I feel like the council really don't - but I've been at them for months now and my energy is running out.
"It's probably not really that important, yet I feel like it really is - I just have a horrible feeling something bad will happen and I'll kick myself for not doing something."
Despite hundreds of residents expressing their concern, Jo feels the chance of a solution being implemented soon is unlikely because the council seems to be looking to the police to deal with it which they say they are not in a position to do on a daily basis.
Writing to a local councillor, who Jo Jeffers has been in contact with, Simon Wallace, Design Team Leader at Cheshire East Highways said "We are aware of the obstruction issues taking place here and following a conversation with Andrew Ross and the Portfolio Holder I am going to send a letter to the Police to request enforcement takes place here. As the vehicles are causing an obstruction, the Police have the relevant powers to be able to enforce this.
"Cheshire East Highways have considered the issue previously with no suitable solution being available as placing any measures here would cause an obstruction to pedestrians. The existing double yellow lines can be enforced by the civil enforcement team or the Police can enforce the obstruction issue."
However, Sergeant Lynsey Jackson told wilmslow.co.uk this week "As a police team we are able to deal with these matters when we are on duty however to solve the problem long term we need Cheshire East Council to review the area to investigate what measures can be put in place to alleviate the situation for both residents, pedestrians and road users."