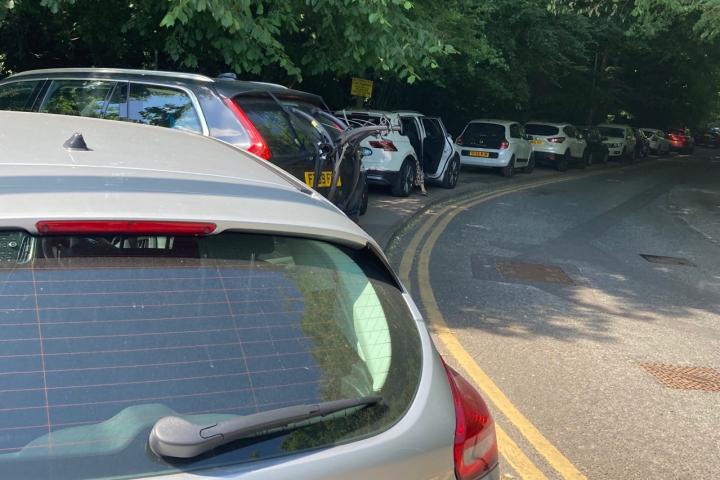 Local residents and visitors to The Carrs, are becoming increasing exasperated and concerned about the dangerous and inconsiderate parking.
The pavement alongside Cliff Road is regularly blocked with parked cars forcing pedestrians, including parents with prams and young children, to walk on the road.
Robert Loveridge took the photo above at 3:30pm on Tuesday, 2nd June, after picking his 5-year-old my daughter up from school.
Robert said "I have called the Cheshire Police about this at The Carrs. If this isn't stopped somebody is going to get killed or seriously hurt. Please act."
Ruth Lees, of Friends of the Carrs, said "The parking on The Cliff has been atrocious and extremely dangerous. There have been numerous complaints on various Wilmslow FB groups and on Twitter with genuine concern for the safety of pedestrians. One of our committee members witnessed a family with a buggy having to carry their toddler in the middle of the road because there was absolutely no space on the pavement and from scanning through comments on various social media forums this seems be a common occurrence.
"Cars coming down Cliff Road from Styal Road are pretty much unsighted on the bend - so it's a recipe for disaster. We have also heard of altercations between pedestrians and drivers and problems in The Parish Hall car park with inconsiderate parking.
"This has been going on more or less constantly for the last couple of weeks but also happens most weekends during a "normal" summer.
"As a Friends Group we have no power to do anything apart from to pass on information to Cheshire East Council. We can make suggestions of course but in this case there is very little we can do.
"The police are busy - they probably don't have the resources to come and tackle this everyday? I personally believe they do their best but they do seem to have been rather unwilling to act - in common with some others I wonder why cars aren't being towed away in fact?"
Ian Ballie, Chairman of Friends of the Carrs, added "Definitely a good idea to highlight this parking situation as widely as possible. It's really bad at the Twinnies Bridge end as well, with the car park overflowing and cars parked on the very narrow Styal Road making two-way traffic impossible.
"On top of this, some drivers have been parking on the road on a blind corner at the bottom of the steep narrow hill coming down from Styal to the entrance to the park."
Speaking about the situation last week, a local police officer said "Cliff Road parking at this time is horrendous and unnecessary. Watching pedestrians having to walk on the road is dangerous. Drivers need to think before they park. Tickets have been issued and we will continue to monitor."
I have contacted Cheshire East Council regarding the situation and at the time of publication I am awaiting a response.