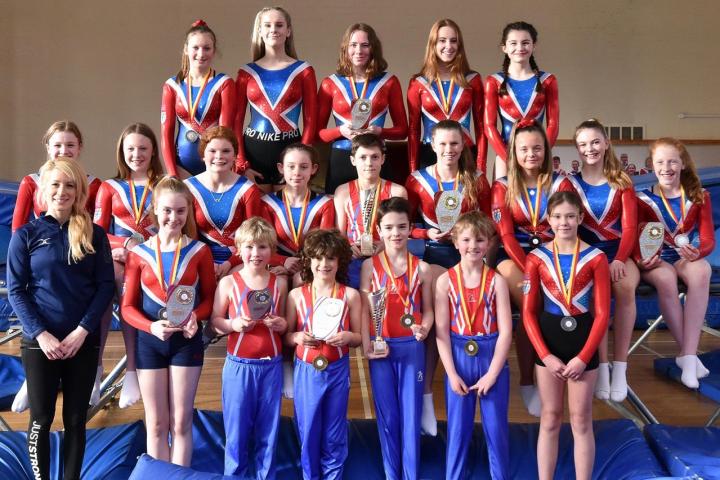 The King's Schools' trampoline stars have won a string of top awards in the National Schools' Championships.
Under coach Rachael Burrows, King's has again excelled at national level in what is an increasingly popular and competitive sport. An awesome eight King' teams qualified for the National Schools Trampoline Championships which took place at the weekend in Southampton.
Two teams were crowned national champions with the brilliant Otis Hughes winning the individual title in the Year 9-10 novice boys category, while Reuben Blackhurst was also placed third individually in the Years 1 - 6 boys novice category. The elite Year 10 - 13 girls won the national title, the team of Lottie Clark, Izzy Hammond, Millie Crummack and Susie Moores showing great athleticism, technical know-how and team work. The Year 1 - 6 novice boys, which also won the national title, is made up of pupils Tom Heseltine, Jago Lewis, Charlie Burrows-Jarvis and Reuben Blackhurst.
The following teams were placed second nationally: the Year 9 - 10 novice boys team of Ted Broadley, Ben Willock and Otis Hughes; the Year 7 - 8 novice girls team of Emily Burton, Evie Thomas and Romily Hughes; and the Year 7 - 9 elite girls team of Sophie Fletcher, Iona Whaley, Leah Shadwell and Poppy Fletcher, which agonizingly missed the national title by a mere 0.2 points.
Placed third and taking the bronze medals were the Year 11 - 13 novice girls team of Bethany Henshaw, Amy Willock, Cara Holliday and Ella Jones. The Year 7 - 9 intermediate girls team of Alice Jordan, Minnie Jansen, Sophie Clegg and Lydia Hine was placed fourth. While the Year 10 - 13 girls intermediate team of Florence Thompson, Jessica Burton, Izzy Watkins and Vicki Theaker was placed fifth.
Coach Rachael Burrows said: "Macclesfield boasts some truly talented emerging young stars who's strong work ethic has pushed them to an exceptional standard. Trampolining teaches self-discipline and courage and will keep you extremely fit for life.
"Above all, this is a team effort to win so many national titles and so much credit is due to our wonderful parents who make so many sacrifices to enable their children to perform to such high standards."
Tags: