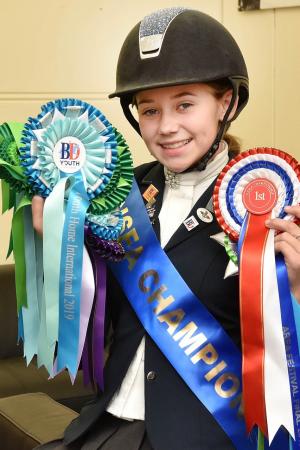 Promotional Feature
National School's Champion dressage rider Matilda Machin says 'love' is the secret to her success.
The youngest contestant in the National Schools' Equestrian Association's final, the super talented 12-year-old King's School Macclesfield pupil beat contestants from 26 other schools nationwide in the blue-ribbon event at Addington in Buckinghamshire.
Matilda said: "The secret is to have a strong relationship with your horse. You've got to love your horse and be kind, considerate and compassionate in order to press all the right buttons. I spend as much time as possible with him, probably more than I do with my mum."
The aforementioned mum Luan, who describes her own equestrian career modestly as "only a happy hacker," added, "Matilda is already way ahead of anything I ever achieved. Her secret is to remain incredibly calm at all times and that presence transfers to the horse. It's mesmerising to watch."
Her horse, Riding Nemo, who won the event seven years ago, is known in equestrianism as a 'School Master', an experienced Dressage performer. It was the King's School's Equestrian Club's best ever result and was described by King's Junior Team Manager Sally Raw-Rees, who runs the club with parent Jenna Osborne, as "simply sensational."
Riding since the age of eight, Matilda has enjoyed her best ever season having previously ridden for the North West in the Home international series under the England flag coming 12th, finishing fifth in the regionals and a fourth in the prestigious Pet Plan regional finals. However, this latest NSEA victory takes her career to another level. She also has scores of podium finishes and rosettes from local, regional and national events.
Matilda said "My role model, indeed, every young dressage rider's role model, is the great Charlotte Dujardin who has won three golds and one silver medium at the Olympics plus all the major titles worldwide and who has shown just what is possible."
Tags: