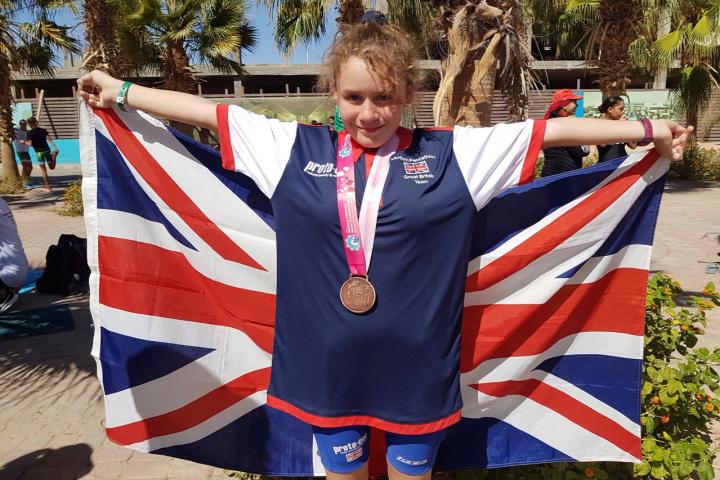 A very talented athlete from Alderley Edge has been selected to represent Great Britain in the 2019 European Laser Run Championships taking place in Weiden, Germany from August 23rd to the 25th.
Eleven year-old Steffi Berndt De la O, who attends Alderley Edge Community Primary School, will also represent Great Britain at the 2019 World Laser Run Championships in Budapest in September.
Her mother Alejandra De la O Tello explained "Laser Run is the exhilarating finale to the Olympic sport of Modern Pentathlon with athletes required to alternate between shooting a laser pistol and running in a fast-paced and action-packed race to the finish line.
"They then return to the range to tackle their next shooting series. The GB Laser Run Series running distances range from 2 x 400m to 4 x 400m (dependant on your age category) and everyone will shoot from 5 meters."
Her father Raimund Klein is delighted that all her hard work has paid off. He told alderleyedge.com "We know how difficult it is for her to train in all these sports and that is why we must recognise Steffi's courage as well as the support given by Alderley Edge Community Primary School, her running coaches and specially her pistol coach Stuart at the Altrincham Rifle Club."
Steffi was also selected to represent Great Britain in the World Biathle and Triathle Championships in Egypt last year where she won a silver medal in the team Biathle and a bronze in the team Triathle.
The talented young athlete not only trains for running and shooting but she is also proficient in swimming, epee fencing (where she competes at national level) and horse riding - having qualified for the showjumping national finals in the Sunshine Tour next October.
Steffi's future is certainly looking promising as she has been awarded a sports scholarship to continue her education at Millfield independent school in Somerset where many Olympic athletes were educated, including Duncan Goodhew, Mary Bignal-Rand, Helen Glover and James Guy.
When one of her friends asked Steffi where her motivation comes from, she said "I love sports, my family, my country and it is a great honour to represent it."