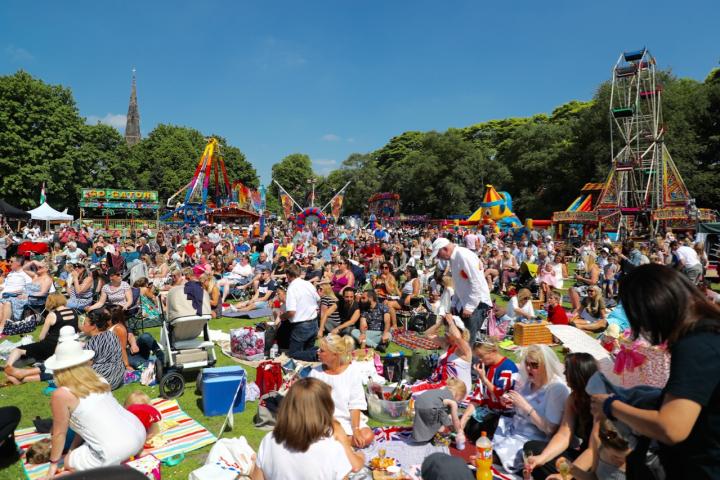 The countdown is on for the Alderley Edge May Fair which takes place on the village park this weekend, featuring the theme "Space".
Festivities will kick off at 4.30pm on Friday when a family film will be shown on a giant screen, before local Wilmslow band Halt + Catch Fire open the music stage at 6.30pm.
Elsewhere on the park, local teams will compete in a 5-a-side football competition and the fairground will be in full swing from 5pm.
Two licensed bars and a selection of street food will be serving throughout evening and the entertainment will reach a climax with a Ziggy Stardust tribute act performing David Bowie hits and 1970's classics.
Committee member Paul Marshall said "As always, entry to the party will be free. We all hope that the village enjoys the variety of entertainment that we have arranged this year."
Whilst the Alderley Edge May Fair event on the Saturday is now in its 9th year of its modern format, the organisers hope that this year's will be the biggest and best supported to date.
Liz Marshall said, "We have tried hard to make sure that there is something for everyone this year. This is probably summed up with our Generation Game where we'll invite visitors across the age range to try new skills. There will be demonstrations in pasta making, dog training, swing dancing, drawing and gardening.
"On the rest of the park we will have the fairground, music stage, village dog show, exotic wildlife exhibits, zorb balls, football skills, and rocket making with Starchaser (who make real rockets which fly in actual Space)."
Saturday's celebrations will kick-off with the Parade through the village centre at 11am, starting with the May Fair Fun Run. Once the runners have set off they will be followed by our Town Crier, South Cheshire Pipe Band, Alderley Edge Community Primary School, vintage cars and bikes, Cheshire Youth Pantomime Society, local village groups and the May Queen with her Princesses, who will open the fair on the music stage when the parade reaches the park.
During the afternoon, the Space theme will continue with tv shows and features on the giant screen. Then at 5pm the FA Cup Final will be shown on the giant screen. Bars and catering will be available until the final whistle.
Residents are warned to expect delays in the village centre on Saturday as roads are being closed from 10.30am to 11.30am to allow the May Fair parade to travel from Chorley Hall Lane along London Road and down Ryleys Lane into the park. The car park on Ryleys Lane will also be closed on both Friday and Saturday.
Tags: