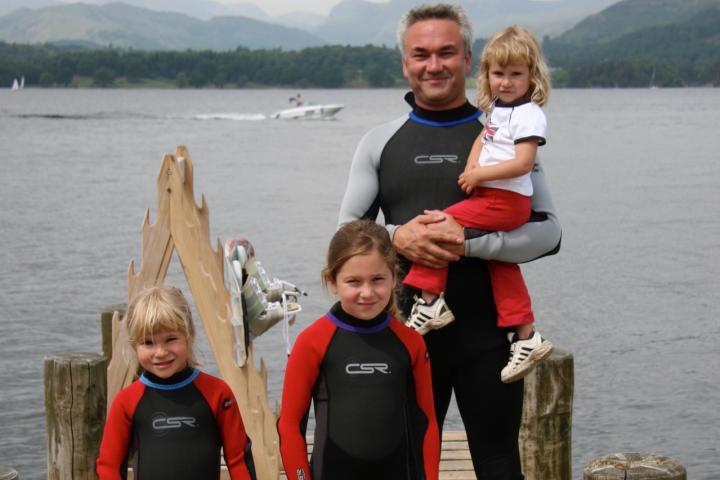 In the run up to the local elections on May 2nd I am publishing brief interviews with each of the candidates - standing for seats on both the Parish Council and Cheshire East Council - that respond to my request, in the order in which they respond.
To read interviews with other candidates you will be able to click on the tags at the bottom of the article. For example, pieces on the other candidates for the Alderley Edge Parish Council election will all be tagged 'Alderley Edge Parish Council 2019 Election'. Candidates representing the same party or group will also be connected via the tags and all articles will be tagged '2019 Local Elections'.
Keith Boxer is a Green Party candidate for the Alderley Edge ward on Cheshire East Council.
Keith has lived in Alderley Edge for over 15 years. He is married to Anna and they have three daughters who care passionately about nature, the environment and animal welfare.
Why have you decided to stand for election as a ward councillor at CEC?
Two of our daughters, Isabel and Emma will be of voting age this year. I feel strongly that that there should be a Green candidate on the ballot paper in Alderley. Particularly for the younger members of our community, for whom the Green Party's policies both on Europe and the Environment might more closely reflect their own views and who may wish to use their vote to demonstrate their support for Green issues.
Have you stood for election before? If so when and for which party?
Not since I was candidate for University president at Bath University over 30 years ago.
What do you consider to be the important issues facing Alderley Edge?
In my opinion tackling climate change is one of the greatest challenges of our time, and much of my professional life as an architect has been working with initiatives that promote environmental sustainability and reduce our dependency on fossil fuels and nuclear power.
Alderley and other parts of Cheshire are currently threatened by a loss of greenbelt to housing developments. There is a risk from inappropriate development of 100s of homes that will have a negative impact on the character of the village and its peaceful surroundings.
I have recently been involved with the Housing Group for the Alderley Edge Neighbourhood plan which is aiming to provide more affordable housing to meet the real needs of the village's younger and elderly residents and to promote the provision of energy efficient "Eco-homes" that will have significantly lower energy bills and less Co2 emissions.
Planning policies at both local and neighbourhood level have a vitally important role in protecting the environment and shaping the future that all our children will inherit. Where housing needs to be built to meet local needs impacts can be kept to a minimum through selecting the most appropriate locations and applying high sustainability and design standards to new housing. But in order to preserve precious countryside and nature it is crucial that development policies are applied that ensure the use of brownfield sites first.
What do you hope to achieve and how in the next 4 years?
To enable those that may share similar views about climate change, animal welfare and the environment to be able to express their viewpoint through the ballot box.
What experience and personal qualities will you bring to the role?
I have spent over 30 years working, both in the private and public sector, with projects and policies that promote sustainable development help to protect the environment and reduce greenhouse gases that are causing climate change.
Why should Alderley Edge residents vote for you?
If there are residents who consider that climate change, environmental sustainability and animal welfare issues are not being given sufficient priority by the incumbent main parties then they can use the ballot box to demonstrate their support for green issues by voting for the Green Party.