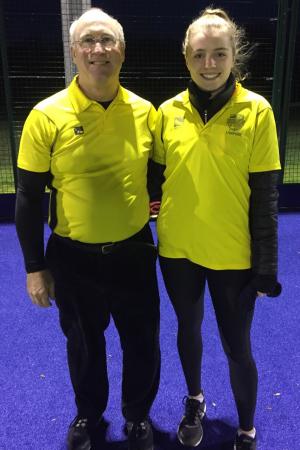 AEHC Ladies 7s found themselves in the unique position of having their match against Neston 5s umpired by the Father and daughter team of Andrew and Annabel Hebb on Saturday.
A former player himself, Andrew regularly umpires in a voluntary capacity, having been supported through his level 1 qualification by the club after Annabel joined as a 10-year-old. Now 19, Annabel has been a regular member of the Ladies 1st XI for several seasons but will shortly be leaving to play and coach in the Victoria State Premier league in Australia before commencing a Sport and Exercise Science degree at Loughborough University next October.
Earlier in the day Annabel was part of the victorious Ladies 1st team who travelled to Liverpool and beat Sefton 3-1 to consolidate their top-four North Premier League position. The Ladies face University of Leeds, who sit just one point behind them, at home next weekend in a crunch match before the Christmas break.
The Mens 1st outdoor season is now paused for several weeks while all the National League teams turn their attentions to indoor competition but both the Mens 2s and Ladies 2s saw off challenges from Crewe in their respective league games, the men winning 5-3 and the Ladies 4-0. The Ladies 3s, 4s, 5s and 6s also all won, while the Mens 3s and 4s drew their respective games against Sale and Winnington Park 2s. The 4s draw maintains their unbeaten record in North West division 4 this season. The Mens 5s beat Eiaias 3-0 at Colwyn Bay.
Match report by Sue Polley.
Tags: