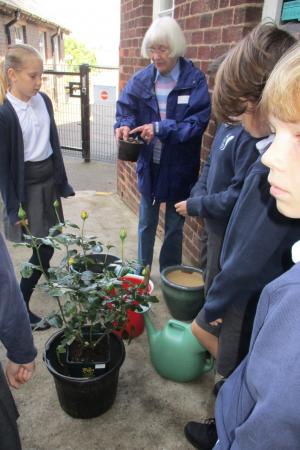 Local residents visited Alderley Edge Community Primary School to help them celebrate International Peace Day which is observed around the world on September 21st.
The children in year 6 have been learning about World War Two and the visitors talked to the children about their experiences of evacuation and the importance of peace. Together, the ladies from the parish and children planted a Peace Rose that can be seen at the entrance to school.
Mrs Walsh, Interim Headteacher said, "This has been a fantastic opportunity for the children to learn, first-hand, about the impact of war and the importance of peace. It was lovely to see how easily the different generations talked about the war and its consequences. Thank you to the ladies of the Alderley Edge Parish for taking time to visit school. I am sure the children will remember this poignant experience."