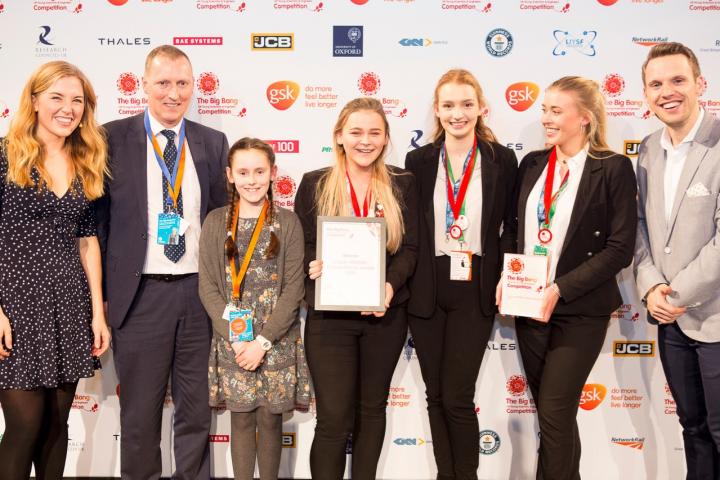 An award that launched in 2017 in honour of a previous contestant at The Big Bang UK Young Scientists & Engineers Fair has been awarded to a team from Alderley Edge School for Girls.
Jessica Allwright, Bianca Boren and Nina Fraser, entered The Big Bang Competition with their Playground Clock and Traffic Light System, and received a trophy and a £100 cash prize to spend on something fun.
They won the Colum McNally Cheeky Potato award after capturing the judges' attention with their sense of humour and charm throughout the competition.
The 'Cheeky Potato Award' has been established in memory and celebration of Colum McNally, a student who charmed the judges with his warmth and cheeky sense of humour when he won the title of UK Young Engineer of the Year in 2015 for his Agri-Hammer, a machine to help prevent farm accidents. After winning the prestigious award while at St Colman's College, Colum went on to study engineering at university before losing his battle with cancer in late 2016.
Speaking about his experience at a Big Bang Fair supporters' dinner in 2016, Colum managed to win a small wager by squeezing the word 'potato' into his speech, which has been recognised in the title of the specialist award.
The team from Alderley Edge School for Girls, is now the second recipient of the special award at The Big Bang Fair 2018 in Birmingham. Colum's father Mark McNally and sister Sarah-Jane were at the ceremony to award the prize.
Congratulating the winners, Beth Elgood, Director of Communications, EngineeringUK, which organises The Big Bang Competition said: "Colum made a real impression with the judges as a finalist and as UK Young Engineer of the Year. He was a real talent and a hugely likeable young man who was such fun to spend time with. The Cheeky Potato award aims to reflect that sense of humour and honour his memory.
"This team encapsulated everything we wanted in this year's winner of 'The Colum McNally Cheeky Potato Award', charming and amusing the judges in equal measure."
Helen Jeys, Headmistress of Alderley Edge School for Girls, commented: "I am so proud of the girls and their engineering success this year. Not only have they won prizes for academic innovation and expertise but this national award rewards them for their manner and personalities. They are super young women and role-models to other girls who aspire to be involved in Science, Technology and Engineering."