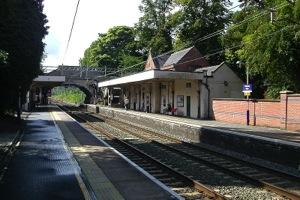 On a Mondays I commute to central Manchester on the train from Alderley Edge rail station. I am a resident of Wilton Crescent.
Today 8/1/18 (I think the date is a palindrome but that's irrelevant) I today caught different trains than normal due to the restricted timetable on Northern Rail due to their industrial action.
On my return to Alderley at approx 06:15pm I left the train with the usual half dozen passengers, several of which were obviously off to collect their cars. I walked some way behind one gentleman across the road and alongside the edge of the park.
I assumed he would turn left to collect his car in the Park Car Park but no he kept walking, I took my normal route across the crossing by the Church, still following but by coincidence as he 'led the way', I thought oh he has parked on the right side of Ryleys lane in that bank of parking before the turn to Eaton Drive, but no he kept walking.
Ahead of me he turned right into Eaton Drive, by now I started to think oh he might actually be a neighbour and my assumption about heading to a car was wrong. I too turned into Eaton Drive heading home. He actually got into a car opposite the junction of Sutton Rd and drove away in the direction of the village centre - he was a commuter after all and earlier assumptions accurate.
I recognised him from previous train trips, but parks (I emphasise legally) as far away as Sutton Rd, the catchment area of commuters is growing I am sure the situation is the same on the 'Lakes' estate. I hate to potentially re-open the parking can of worms but thought my observation this evening was worthy of mentioning.
Tags: